Tigers headed to Division III final four after win over Calvin
March 10, 2007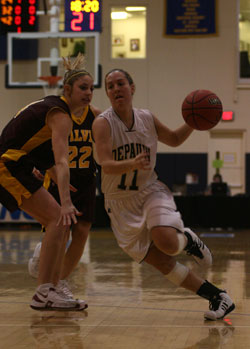 March 10, 2007, Boston, Mass. - DePauw used a 14-0 second-half run in a 3:38 stretch to push a four-point lead to 18 on the way to a 74-61 sectional final win over Calvin.
The victory propelled the 29-3 Tigers to the Division III final four for the second time in six years. The Tigers advance to next Friday's national semifinals in Springfield, Mass., where they'll face Mary Washington. Calvin closed the season at 28-3.
"I'm thrilled to be heading to the final four with this group," DePauw's 14th-year head coach Kris Huffman said. "They've worked really hard to get to this point."
The Tigers outscored Calvin 11-4 over the final five minutes of the first half to take a 28-20 lead to the break. DePauw extended the lead to nine early in the second half before the Knights scored six straight and closed the Tigers' lead to 37-34. The Tigers still held a 42-38 lead after Calvin's Brook VanEck scored with 10:53 left.
Cassie Pruzin hit four free throws sandwiched around Bridget Bailey's turnaround to push the lead to double digits. Liz Bondi followed with a jumper before Caitlin McGonigal added two free throws with Suzy Doughty and Gwen Haehl each hitting layups to make it 56-38 with just over seven minutes left. During the 14-0 run, the Tigers held the Knights to 0-for-7 shooting and three turnovers.
Calvin closed to within 11 at 63-52 on Nikki Zimmerman's three with 1:55 left, but the Tigers hit four-of-six free throws over the next 20 seconds to stretch the margin back to 15.
Bondi led DePauw with 14 points, while Pruzin and McGonigal each added 12 and Doughty finished with 11. Pruzin paced the Tigers with six rebounds. Lisa Winkle led Calvin with 24 points and 12 rebounds including 16 points and eight boards in the first half. Kelly Trewhella followed with 10 points.
The Tigers shot just 40.8 percent from the floor, but hit 50 percent in the second half. Calvin connected on just 35.6 percent from the floor and 30.8 percent in the first half. Calvin held a 38-34 edge on the boards and hauled down 17 on the offensive glass.
DePauw's 29 wins match the school record set during last year's 29-2 campaign.
Back