DePauw Moves to 4-1 with Win over Wheaton
November 21, 2008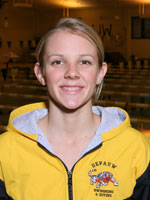 November 21, 2008, Greencastle, Ind. - The Tigers improved to 4-1 on the season following a 123.5-101.5 win over visiting Wheaton at the Erdmann Natatorium.
Amanda Stier (left) was a double-winner for the Tigers as she finished first in the 200-yard freestyle in 1:57.69 and the 500 free in 5:22.59. Stier's 200 free time tied the school record held by Katie Doogan.
Catie Baker (below) also took a pair of firsts as she won the 100 breaststroke in an NCAA provisional time of 1:06.43 and the 100 backstroke in 1:02.25.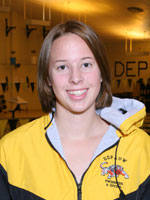 Danielle Johnson won the 100 butterfly in 1:04.21, while Catie King won one-meter diving with 171.55 points and Shvawn Christensen took first on the three-meter board with 157.75 points.
DePauw's 200 free relay of Elizabeth Medlock, Rachel Wheaton, Stier and Katie Massey wrapped up the meet with a win in 1:40.05.
The Tigers compete in the Wabash Invitational on Saturday.
Licensed to Depauw University                             HY-TEK's Meet Manager
                           Wheaton dual - 11/21/2008                           
                                    Results                                    
 
Event 1  Women 200 Yard Medley Relay
===============================================================================
    School                                                        Finals        
===============================================================================
  1 Wheaton College-IL  'A'                                     1:53.19  
     1) Yue, Moire T 18                 2) Hartman, Liz S 19              
     3) Clarkson, Taylor H 21           4) Loefstedt, Leah 19             
  2 DePauw University  'A'                                      1:53.27  
     1) Riggs, Lindsay                  2) Baker, Catie                   
     3) Johnson, Danielle               4) Wheaton, Rachel                
  3 Wheaton College-IL  'B'                                     1:57.84  
     1) Matthiesen, Ashley N 21         2) Hannema, Caroline C 19         
     3) Sedjo, Kristina L 21            4) Higgins, Emma G 19             
  4 DePauw University  'B'                                      2:02.44  
     1) Francissen, Taryn               2) Zerbini, Gina                  
     3) Buth, Mallory                   4) Enix, Cassie                   
 
Event 3  Women 1650 Yard Freestyle
===============================================================================
    Name                     Age School                           Finals        
===============================================================================
  1 Jurgens, Lauren A         18 WETN-IL                       17:48.80  
  2 Boehme, Callie               DPU                           18:08.16  
  3 Morrison, Katie              DPU                           19:02.90  
  4 Baumann, Lindsey             DPU                           19:05.12  
  5 Cook, Megan               20 WETN-IL                       20:05.79  
  6 Cox, Janet                22 DPU                          x20:47.99  
 
Event 5  Women 200 Yard Freestyle
===============================================================================
    Name                     Age School                           Finals        
===============================================================================
  1 Stier, Amanda M           21 DPU                            1:57.69  
  2 Hannema, Caroline C       19 WETN-IL                        2:03.16  
  3 Loefstedt, Leah           19 WETN-IL                        2:04.38  
  4 Enix, Cassie                 DPU                            2:04.71  
  5 Massey, Katie                DPU                            2:05.07  
  6 Craggett, Kelsey R        18 WETN-IL                        2:05.10  
  7 Morris, Jillian M         20 WETN-IL                       x2:10.38  
 -- Jacobs, Bethany D         20 WETN-IL                       X2:04.72  
 
Event 7  Women 50 Yard Freestyle
===============================================================================
    Name                     Age School                           Finals        
===============================================================================
  1 Matthiesen, Ashley N      21 WETN-IL                          25.59  
  2 Clarkson, Taylor H        21 WETN-IL                          26.39  
  3 Tabler, Sally                DPU                              26.60  
  4 Higgins, Emma G           19 WETN-IL                          26.61  
  5 Hoffer, Noel N            19 WETN-IL                         x27.03  
  6 Johnson, Danielle            DPU                              27.26  
  7 Riggs, Lindsay               DPU                              27.46  
  8 Buth, Mallory                DPU                             x27.61  
  9 Francissen, Taryn            DPU                             x29.46  
 10 McGee, Jessica A          18 WETN-IL                         x30.27  
 
Event 9  Women 200 Yard IM
===============================================================================
    Name                     Age School                           Finals        
===============================================================================
  1 Yue, Moire T              18 WETN-IL                        2:17.50  
  2 Crockett, Heather F       18 WETN-IL                        2:20.01  
  3 Skinner, Sloan C          21 WETN-IL                        2:21.26  
  4 Medlock, Elizabeth           DPU                            2:21.92  
  5 Dolejs, Sarah C           18 WETN-IL                       x2:22.42  
  6 McVey, Claire                DPU                            2:33.16  
  7 Bemendefer, Joan             DPU                            2:33.61  
  8 Van Eerden, Caitlin E     20 WETN-IL                       x2:36.98  
 
Event 11  Women 100 Yard Butterfly
===============================================================================
    Name                     Age School                           Finals        
===============================================================================
  1 Johnson, Danielle            DPU                            1:04.21  
  2 Morris, Jillian M         20 WETN-IL                        1:05.12  
  3 Buth, Mallory                DPU                            1:06.02  
  4 Zerbini, Gina                DPU                            1:06.96  
  5 McVey, Claire                DPU                           x1:10.20  
  6 McGee, Jessica A          18 WETN-IL                        1:11.17  
  7 Hoffer, Noel N            19 WETN-IL                        1:11.39  
  8 Van Remortel, Brittany    19 WETN-IL                       x1:12.00  
 
Event 13  Women 100 Yard Freestyle
===============================================================================
    Name                     Age School                           Finals        
===============================================================================
  1 Craggett, Kelsey R        18 WETN-IL                          56.46  
  1 Massey, Katie                DPU                              56.46  
  3 Wheaton, Rachel              DPU                              56.64  
  4 Loefstedt, Leah           19 WETN-IL                          56.77  
  5 Crockett, Heather F       18 WETN-IL                          57.80  
  6 Higgins, Emma G           19 WETN-IL                         x57.94  
  7 Enix, Cassie                 DPU                              59.20  
  8 Dolejs, Sarah C           18 WETN-IL                         x59.34  
  9 Bemendefer, Joan             DPU                           x1:01.84  
 
Event 15  Women 100 Yard Backstroke
===============================================================================
    Name                     Age School                           Finals        
===============================================================================
  1 Baker, Catie                 DPU                            1:02.25  
  2 Matthiesen, Ashley N      21 WETN-IL                        1:03.84  
  3 Riggs, Lindsay               DPU                            1:03.93  
  4 Jacobs, Bethany D         20 WETN-IL                        1:06.40  
  5 Medlock, Elizabeth           DPU                            1:07.33  
  6 Francissen, Taryn            DPU                           x1:08.42  
  7 Van Eerden, Caitlin E     20 WETN-IL                        1:12.57  
 
Event 17  Women 500 Yard Freestyle
===============================================================================
    Name                     Age School                           Finals        
===============================================================================
  1 Stier, Amanda M           21 DPU                            5:22.59  
  2 Dolejs, Sarah C           18 WETN-IL                        5:31.53  
  3 Shear, Renee M            22 WETN-IL                        5:32.31  
  4 Hannema, Caroline C       19 WETN-IL                        5:34.07  
  5 Tabler, Sally                DPU                            5:44.29  
  6 McVey, Claire                DPU                            6:05.43  
 
Event 19  Women 100 Yard Breaststroke
===============================================================================
    Name                     Age School                           Finals        
===============================================================================
  1 Baker, Catie                 DPU                            1:06.43  
  2 Hartman, Liz S            19 WETN-IL                        1:08.96  
  3 Zerbini, Gina                DPU                            1:12.94  
  4 Dolejs, Sarah C           18 WETN-IL                        1:13.20  
  5 Skinner, Sloan C          21 WETN-IL                        1:14.25  
  6 Tabler, Sally                DPU                            1:15.76  
  7 Bemendefer, Joan             DPU                           x1:15.88  
  8 Hoffer, Noel N            19 WETN-IL                       x1:16.53  
 
Event 21  Women 200 Yard Freestyle Relay
===============================================================================
    School                                                        Finals        
===============================================================================
  1 DePauw University  'A'                                      1:40.95  
     1) Medlock, Elizabeth              2) Wheaton, Rachel                
     3) Stier, Amanda M 21              4) Massey, Katie                  
  2 Wheaton College-IL  'A'                                     1:42.70  
     1) Crockett, Heather F 18          2) Clarkson, Taylor H 21          
     3) Jacobs, Bethany D 20            4) Higgins, Emma G 19             
 
Event 23  Women 1 mtr Diving
===============================================================================
    Name                     Age School                           Finals        
===============================================================================
  1 King, Catie                  DPU                             171.55  
  2 Christensen, Shvawn          DPU                             160.15  
 
Event 25  Women 3 mtr Diving
===============================================================================
    Name                     Age School                           Finals        
===============================================================================
  1 Christensen, Shvawn          DPU                             157.75  
 


Back