Tigers Top Pirates; Tied for SCAC Eastern Division Lead
February 1, 2009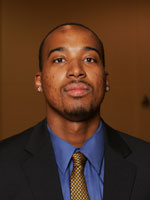 February 1, 2009, Greencastle, Ind. — DePauw led by nine at halftime and scored the first 14 points of the second half on the way to an 81-54 Southern Collegiate Athletic Conference win over Southwestern.
DePauw improved to 15-5 overall and 8-2 in the SCAC and moved into a tie for first with Centre in the Eastern Division standings. Southwestern dropped to 13-7 overall and 4-6 in the conference.
The Tigers led by as many as 12 late in the first half before the Pirates closed the halftime margin to 34-25. In the opening three minutes of the second half, Mike Moore hit three three-pointers, Steve Lemasters added a trey and Tom Callen had a bucket and the Tigers had a 48-25 lead.
Southwestern closed the gap inside of 20 points twice before the Tigers pushed it back to as many as 32 at 67-35 with 10:09 left.
Moore scored 21 and dished out three assists, while Joe Bergfeld added 12. David Gray (pictured) grabbed a career-high 15 rebounds and blocked three shots.
Travis Barber led the Pirates with nine points, while Jonathan Brown grabbed 13 rebounds in the loss.
DePauw shot 49.2 percent from the floor including 56.3 percent in the second half. The Tigers also knocked down 9-of-23 three-pointers and committed just 10 turnovers. Southwestern connected on just 35.2 percent from the floor and hit only 1-of-11 from three-pointers. The Pirates held the rebounding edge, 38-36.
The Tigers return to action on Friday, February 6, when they travel to Birmingham-Southern for a 6 p.m. CST contest.
Back