Tigers Wrap up Season at NCAA Championships
March 21, 2009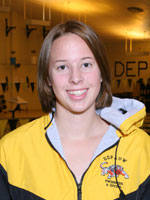 March 21, 2009, Minneapolis, Minn. — The Tigers wrapped up the season with a pair of swims in the final day of competition at the NCAA Division III Championships at the University of Minnesota Aquatic Center.
Catie Baker (left) finished 18th in the 200-yard breaststroke in 2:22.71, while Callie Boehme (right) was 24th in the 1,650 freestyle in 17:44.73.
Complete information including links to live results and video available through Macalester College's host site.
Back