Tigers Finish Eighth at Indiana Intercollegiate; Second Among Non-Division I Schools
September 18, 2009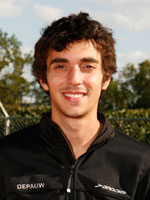 September 18, 2009, Terre Haute, Ind. — Led by Nick Pucillo's 34th-place finish, DePauw totaled 250 points and finished eighth at the Indiana Intercollegiate.
Indiana won with 20 points followed by Indiana State with 55. Manchester was tops among the non-Division I schools with DePauw second.
Pucillo (pictured) finished in 26:46, while Pete Richard was 42nd in 27:02. Zack Weinberg placed 53rd in 27:21 followed by Nate Kober in 60th in 27:34 and Tyler Giesting in 61st in 27:36.
Joe Evans was 66th in 27:46, while Jake Campbell rounded out the Tigers' top runners in 84th in 28:13.
DePauw competes in the Otterbein Invitational on September 26.
Follow DePauw Athletics on Twitter | Become a Fan of DePauw Athletics on Facebook
Back