DePauw Finishes Second at Otterbein Invitational
September 26, 2009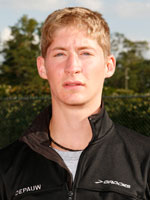 September 26, 2009, Westerville, Ohio — DePauw totaled 63 points and finished just behind Mount Union's 59 at the Otterbein Invitational.
Zack Weinberg (pictured) paced the Tigers by covering the 8K course in 26:17.6. Eric Hawley finished 13th in 26:41.2 followed by Nick Pucillo in 15th in 26:47.
Pete Richard was 19th in 26:55.6, while Joe Evans finished 20th in 26:57.1 and Nate Kober was 22nd in 26:58.2. Steve Clark rounded out DePauw's top finishers in 36th in 27:16.2.
The Tigers return to action on Saturday, October 10, when they host the Gibson Family Invitational in Terre Haute with Rose-Hulman.
Follow DePauw Athletics on Twitter | Become a Fan of DePauw Athletics on Facebook
 On The Mark Timing - Contractor License                    HY-TEK's Meet Manager
                Otterbein Cross Country Invitational - 9/26/2009                 
                                Otterbein College                                
                                Westerville, Ohio                                
                              Last Completed Event                               
 
Event 2  Men 8k Run CC
=======================================================================          
    Name                    Year School                  Finals  Points          
=======================================================================          
  1 Brock Weaver                 Unattached Ashland     25:57.8                  
  2 Devin Butcher             SR Heidelberg U           26:08.6    1             
  3 Bryce Basista             SR Mount Union            26:11.2    2             
  4 Jeremiah Hargett          FR Oakland CC             26:12.3    3             
  5 Zack Weinberg             SR DePauw                 26:17.6    4             
  6 Dan Whisler               SR Mount Union            26:18.0    5             
  7 Tim Williard              SO Otterbein              26:20.0    6             
  8 Matt Stratman                Unattached Ashland     26:21.4                  
  9 Mark Porostosky           SR Mt Vernon Nazarene     26:23.3    7             
 10 Ty Griffin                JR Mount Union            26:25.9    8             
 11 Chris Fyock               JR Otterbein              26:32.5    9             
 12 Tyler Kreipke             JR Rose-Hulman            26:39.1   10             
 13 Eric Hawley               FR DePauw                 26:41.2   11             
 14 Matt Dixon                JR Otterbein              26:42.8   12             
 15 Nick Pucillo              JR DePauw                 26:47.0   13             
 16 Jacob Lemon               SR Heidelberg U           26:51.7   14             
 17 Jordan Karnes             SO Heidelberg U           26:52.3   15             
 18 Terry Workman             Sr Wooster                26:54.5   16             
 19 Pete Richard              SO DePauw                 26:55.6   17             
 20 Joe Evans                 SR DePauw                 26:57.1   18             
 21 Shane Logan               FR Oakland CC             26:57.4   19             
 22 Nate Kober                SO DePauw                 26:58.2   20             
 23 Erik Reed                 JR Mount Union            26:58.6   21             
 24 Rik Workman               Sr Wooster                26:59.5   22             
 25 Scott Wolfe               JR Mount Union            26:59.6   23             
 26 Bobby Over                FR Heidelberg U           27:01.8   24             
 27 John Gogle                SO Heidelberg U           27:02.4   25             
 28 Mickey Nadeau             SR Mount Union            27:02.8   26             
 29 Clark Moser               JR Rose-Hulman            27:05.6   27             
 30 Dustin Whitehair             Columbus Running Co    27:06.9                  
 31 Jamie Kuess               SR Heidelberg U           27:08.2   28             
 32 Josh Mickle               SR Marietta College       27:09.8   29             
 33 Jamie Martin              SO Heidelberg U           27:11.5   30             
 34 Ricky Featheringill          Unnattached            27:14.1                  
 35 Aldrich Micah             SO Rose-Hulman            27:15.4   31             
 36 Steve Clark               SR DePauw                 27:16.2   32             
 37 Steve Paullin             JR Otterbein              27:17.7   33             
 38 Nate Winters              SO Mt Vernon Nazarene     27:18.5   34             
 39 Bryan McIntyre            SR Mount Union            27:20.1   35             
 40 Tyler Giesting            SO DePauw                 27:23.1                  
 41 Scott Lasch               SR Heidelberg U           27:23.5                  
 42 Dustin Kuess              FR Heidelberg U           27:24.8                  
 43 Austin Schmidt               Unnattached            27:28.9                  
 44 Caleb Muller              FR Marietta College       27:30.6   36             
 45 David Caldwell            JR Rose-Hulman            27:31.3   37             
 46 David Fiser               SO Mount Union            27:32.8                  
 47 Heath Gibson              JR Otterbein              27:35.3   38             
 48 Noah Droddy               FR DePauw                 27:39.6                  
 49 Brian Link                Jr Case Western           27:41.5   39             
 50 John Distler              JR Heidelberg U           27:43.8                  
 51 Tyler Congrove            SR Otterbein              27:44.1   40             
 52 Tim Kelly                 SO Mount Union            27:47.8                  
 53 Tom Brumlik               SR Otterbein              27:50.4   41             
 54 Jake Campbell             SO DePauw                 27:52.7                  
 55 Terrance Wallace          SO Marietta College       27:56.5   42             
 56 Caleb Ellis               FR Marietta College       27:56.7   43             
 57 Gareth Graver             FR Heidelberg U           27:58.3                  
 58 Matt Miller               FR Mount Union            27:58.6                  
 59 Micah Caunter             So Wooster                27:59.1   44             
 60 Nick Hewitt               r. Case Western           27:59.7   45             
 61 Kyle Lawton               SO Oakland CC             28:03.0   46             
 62 Chas Irmen                SO Oakland CC             28:03.3   47             
 63 Devin McKeown             SO Oakland CC             28:05.6   48             
 64 Darryl Jessup             FR Oakland CC             28:07.7   49             
 65 Luke Beasley              SR DePauw                 28:10.0                  
 66 Troy Streacker            FR Otterbein              28:15.9                  
 67 Tyler Smith               FR Muskingum Un           28:20.1   50             
 68 Seth Wisener              FR Heidelberg U           28:20.4                  
 69 Max Bush                  FR DePauw                 28:20.9                  
 70 Michael Jacoby            SR Otterbein              28:24.2                  
 71 Kyle Barrett              SR DePauw                 28:24.9                  
 72 Jack Anderson             So Wooster                28:26.0   51             
 73 Ethan Rudawsky            So Wooster                28:27.7   52             
 74 Mark Childs               SR Heidelberg U           28:31.6                  
 75 Kevin Neel                FR Heidelberg U           28:33.1                  
 76 Alex Buday                FR Oakland CC             28:34.7   53             
 77 Cody Ellis                Fr Ohio Norther           28:39.6   54             
 78 Andrew Stephan            SO Urbana University      28:47.1   55             
 79 Ian Hankins               SR Muskingum Un           28:48.4   56             
 80 Jacob Rettig              So Ohio Norther           28:54.2   57             
 81 Jeff Lyman                Sr Wooster                28:56.2   58             
 82 Max Kenngott              JR Marietta College       28:58.6   59             
 83 Zach Widner               FR Oakland CC             28:58.8                  
 84 Jakeb Fry                 FR Muskingum Un           29:04.0   60             
 85 Kevin DeGroot             Fr Wooster                29:06.1   61             
 86 Brendan Lagios            FR Oakland CC             29:07.0                  
 87 Jay Wellik                SR DePauw                 29:11.5                  
 88 Chris Sherlock            FR Oakland CC             29:12.6                  
 89 Kurt Gilbert              r. Case Western           29:14.2   62             
 90 Alex Jue                  Sr Wooster                29:14.8                  
 91 Patrick Rachow            Jr Ohio Norther           29:16.7   63             
 92 Josh Watson               JR Ohio Dominican         29:17.0   64             
 93 Kirk Shellhouse           SR Heidelberg U           29:17.9                  
 94 Sean Hoover               FR Marietta College       29:18.2   65             
 95 Jon Cripe                 SO DePauw                 29:19.3                  
 96 Matt Bayman               Fr Ohio Norther           29:21.8   66             
 97 Mark Bayman               FR Otterbein              29:24.4                  
 98 Beau Thompson             JR Heidelberg U           29:25.2                  
 99 Eddie Robinson            FR Heidelberg U           29:27.4                  
100 Kenny Alexander           SR Mt Vernon Nazarene     29:28.2   67             
101 Peter Walls               So Case Western           29:38.5   68             
102 Eddie Erion               SO Urbana University      29:40.2   69             
103 Casey Green               So Wooster                29:41.1                  
104 Bobby Voigt               Jr Case Western           29:43.5   70             
105 Ethan Casey               Fr Wooster                29:43.7                  
106 Michael Besl              SO Muskingum Un           29:43.9   71             
107 Louie D'Amico             SR Marietta College       29:46.1   72             
108 Nova Martin               FR Muskingum Un           29:53.0   73             
109 Michael Sunyak            Fr Ohio Norther           29:53.0   74             
110 Kent Reiber               SR Marietta College       29:54.2                  
111 Michael Winters           Sr Wooster                29:55.1                  
112 Stephen Graessle          So Ohio Norther           29:59.9   75             
113 Brad Longo                SO Otterbein              30:01.1                  
114 Jacob Hoffman             SO Heidelberg U           30:01.2                  
115 Franklin Freytag          Sr Ohio Norther           30:07.7   76             
116 Brian Litt                SO Ohio Dominican         30:08.7   77             
117 Anthony Lee               FR Mt Vernon Nazarene     30:11.5   78             
118 Chad Trownson             Fr Wooster                30:13.4                  
119 Adam Markin               Fr Wittenberg             30:18.7   79             
120 Shane Shetler             Sr Wooster                30:20.3                  
121 Andy Guimond              SO Marietta College       30:20.7                  
122 Alex Bachtel              Fr Ohio Norther           30:21.2                  
123 Jeffrey Baeckeroot        FR Oakland CC             30:22.1                  
124 Michael Berger            Fr Case Western           30:22.6   80             
125 Herber Mark               SO Rose-Hulman            30:22.7   81             
126 Shondell Thomas           SO Heidelberg U           30:23.6                  
127 Sean Bouyack              Sr Wooster                30:24.5                  
128 Joe Pittenger             SR Mt Vernon Nazarene     30:26.5   82             
129 Matt Matula               FR DePauw                 30:27.4                  
130 Ben Kirk                  FR Heidelberg U           30:27.7                  
131 Ben Wibberley             Jr Ohio Norther           30:28.2                  
132 Bryn Perkey               FR Marietta College       30:41.6                  
133 Kris Ree                  JR Otterbein              30:44.6                  
134 Brett Beaugureau          Jr Case Western           30:51.0   83             
135 Andrew Linkugel           FR Thomas More            30:53.6   84             
136 Brent Ruby                So Ohio Norther           30:58.0                  
137 Robert Alberts            FR Muskingum Un           30:59.0   85             
138 Kyle Egan                 JR Thomas More            31:00.8   86             
139 Ethan Barr                So Wittenberg             31:03.7   87             
140 Justin Rupp               SO Marietta College       31:04.3                  
141 Sam Swartz                Fr Wooster                31:12.4                  
142 Gus Fuguitt               Fr Wooster                31:20.4                  
143 Jeff Shawver              SO Muskingum Un           31:20.6   88             
144 Kevin Hazlett             SR Marietta College       31:25.3                  
145 Eric Rauschenbach         FR Ohio Dominican         31:25.7   89             
146 Adam Sheetz               Jr Ohio Norther           31:28.5                  
147 Youngjoon Cho             Jr Wooster                31:30.6                  
148 Jameson Seymour           SO Mt Vernon Nazarene     31:38.8   90             
149 Dustin Wine               SR Mt Vernon Nazarene     31:44.4   91             
150 Joe Kachovec              r. Case Western           31:45.5                  
151 Andrew Fuller             FR Thomas More            31:48.8   92             
152 Andrew Licking            So Wooster                31:50.3                  
153 Shane Campbell            FR Thomas More            31:51.1   93             
154 Matt Worth                Fr Wooster                31:55.3                  
155 Jeff Sharrat              FR Muskingum Un           31:59.1                  
156 Josh Weitz                FR Ohio Dominican         32:13.0   94             
157 David Clark               JR Mt Vernon Nazarene     32:22.5                  
158 Ray Allen                 Jr Wittenberg             32:26.5   95             
159 Peter Craig               SO Muskingum Un           32:53.3                  
160 Joe Angle                 Jr Wittenberg             32:55.5   96             
161 Zach Webster              SO Otterbein              32:58.9                  
162 Jeremiah Guappone         SR Ohio Dominican         33:00.7   97             
163 Jacob Pessia              FR Mt Vernon Nazarene     33:04.3                  
164 Mark Rednour              FR Mt Vernon Nazarene     33:07.6                  
165 Jeff Atkinson             So Case Western           33:10.5                  
166 Ryan Flannery             JR Otterbein              33:14.5                  
167 Tim Huesing               Fr Wittenberg             33:16.4   98             
168 JP Rousseau               SR Muskingum Un           33:29.6                  
169 Charles Horenstein        Sr Wooster                33:42.4                  
170 Karl Smith                Fr Wooster                33:52.9                  
171 Jacob Laubacher           JR Ohio Dominican         33:59.5   99             
172 Jeremy Danner             SO Urbana University      34:17.9  100             
173 Nick Kallas               FR Muskingum Un           34:57.8                  
174 Blake Kaelin              SO Marietta College       34:58.0                  
175 Josh Sexton               SO Urbana University      35:03.7  101             
176 Andrew Morrow             SO Urbana University      35:16.8  102             
177 Clayton Raines            FR Muskingum Un           36:01.9                  
178 Nathan Gunn               FR Thomas More            36:08.7  103             
                                                                                 
                                   Team Scores                                   
=================================================================================
Rank Team                      Total    1    2    3    4    5   *6   *7   *8   *9
=================================================================================
   1 Mount Union                  59    2    5    8   21   23   26   35          
      Total Time:  2:12:53.30                                                    
         Average:    26:34.66                                                    
   2 DePauw                       63    4   11   13   17   18   20   32          
      Total Time:  2:13:38.50                                                    
         Average:    26:43.70                                                    
   3 Heidelberg University        79    1   14   15   24   25   28   30          
      Total Time:  2:13:56.80                                                    
         Average:    26:47.36                                                    
   4 Otterbein                    98    6    9   12   33   38   40   41          
      Total Time:  2:14:28.30                                                    
         Average:    26:53.66                                                    
   5 Oakland CC                  163    3   19   46   47   48   49   53          
      Total Time:  2:17:21.60                                                    
         Average:    27:28.32                                                    
   6 Wooster                     185   16   22   44   51   52   58   61          
      Total Time:  2:18:46.80                                                    
         Average:    27:45.36                                                    
   7 Rose-Hulman                 186   10   27   31   37   81                    
      Total Time:  2:18:54.11                                                    
         Average:    27:46.82                                                    
   8 Marietta College            209   29   36   42   43   59   65   72          
      Total Time:  2:19:32.20                                                    
         Average:    27:54.44                                                    
   9 Mt Vernon Nazarene          268    7   34   67   78   82   90   91          
      Total Time:  2:23:48.00                                                    
         Average:    28:45.60                                                    
  10 Case Western                284   39   45   62   68   70   80   83          
      Total Time:  2:24:17.40                                                    
         Average:    28:51.48                                                    
  11 Muskingum University        310   50   56   60   71   73   85   88          
      Total Time:  2:25:49.40                                                    
         Average:    29:09.88                                                    
  12 Ohio Northern University    314   54   57   63   66   74   75   76          
      Total Time:  2:26:05.30                                                    
         Average:    29:13.06                                                    
  13 Ohio Dominican              421   64   77   89   94   97   99               
      Total Time:  2:36:05.10                                                    
         Average:    31:13.02                                                    
  14 Urbana University           427   55   69  100  101  102                    
      Total Time:  2:43:05.70                                                    
         Average:    32:37.14                                                    
  15 Wittenberg                  455   79   87   95   96   98                    
      Total Time:  2:40:00.80                                                    
         Average:    32:00.16                                                    
  16 Thomas More                 458   84   86   92   93  103                    
      Total Time:  2:41:43.00                                                    
         Average:    32:20.60                                                    


Back