First-Quarter Field Goal Holds Up in 3-0 DePauw Win
September 26, 2009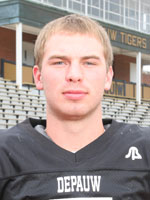 September 26, 2009, Sewanee, Tenn. — Ethan Schweir's (pictured) 28-yard field goal with 1:06 left in the first quarter provided the game's only points as DePauw topped Sewanee by a 3-0 score on a rain-soaked McGee Field. DePauw improved to 2-1 overall and 1-1 in the Southern Collegiate Athletic Conference, while Sewanee dropped to 0-3 overall and 0-1 in the conference.
The two teams combined for just 17 first downs and 291 yards of total offense in the rainy conditions, but the DePauw defense allowed Sewanee just three first downs and 30 yards in the win.
The Tigers drove to the Sewanee 22 on their first possession of the game and converted a fourth down after Sewanee was whistled for a penalty. DePauw then moved it to the 18, but couldn't convert another fourth down situation.
Following a second straight three-and-out, the Tigers took over on their own 39. Michael Engle, who started in place of injured Spud Dick, completed a 37-yard pass to Alex Koors on the first play. Engle later converted a fourth down with a keeper, but DePauw's drive stalled at the Sewanee 11. Schweir then came on to boot the 28-yarder.
Neither team picked up a first down in the second quarter as Sewanee was held without one for the entire first half. That quickly changed as Robert Ratliff's 11-yard pass to Ben Clevenland on Sewanee's second play of the third quarter moved them across midfield for the first time and gave them their initial first down. They drove to DePauw's 21, but Ratliff's fourth down pass fell incomplete.
Early in the fourth, Schweir came in to attempt a 35-yard field goal which was wide to the left. DePauw was forced to punt on its next possession, but the Tigers fumbled the snap and Sewanee recovered on their own 41. Again, the DePauw defense shut down the hosts and forced Sewanee to punt for the 10th time.
DePauw took over on its own 25 and was able to possess the ball for the final 6:37 and take the victory.
The Tigers rushed for 126 yards with Jon Ellis picking up 75 and Derrick Karazsia totaling 69. Engle completed 6-of-15 for 135 yards with two each going to Koors and Bryan Mulligan.
Sewanee finished with just four rushing yards in 27 attempts as the Tigers totaled four sacks. Ratliff and Chris Martin combined to complete 4-of-17 passes for just 26 yards.
Matt Johnson led DePauw with six tackles including a team-best three for loss and a sack. Alex Fitch had two sacks totaling 19 yards, while Ryan Woodard added the fourth sack. Alfonza Knight led Sewanee with 13 tackles, while Zac Atkins has eight.
The contest was the lowest scoring DePauw game since a 3-0 loss at MacMurray on October 25, 1986.
DePauw returns to action on Saturday, October 3, when it hosts Millsaps at 1 p.m. on Old Gold Day at Blackstock Stadium.
Follow DePauw Athletics on Twitter | Become a Fan of DePauw Athletics on Facebook
Back