Tigers Extend Win Streak to Four with Shutout of Birmingham-Southern
November 1, 2009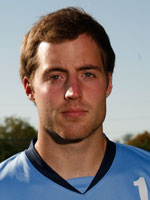 November 1, 2009, Greencastle, Ind. — DePauw extended its win streak to four and improved to 12-4-1 with a 2-0 men's soccer win over visiting Birmingham-Southern. The Panthers dropped to 10-4-2 with the loss.
Gary Pett put the Tigers on the board just 3.46 into the contest on Kreigh Kamman's assist. Brian Lawless pushed the margin to 2-0 at 74:14.
The Tigers outshot Birmingham-Southern 15-9 and held a 5-1 advantage in corners. DePauw's Ted Jacobi (left) recorded the teams' fourth straight shutout and ninth on the season as he recorded six saves. Charlie Boles totaled eight saves for the Panthers.
DePauw closes the regular season on Saturday, November 7, when it hosts Centre at 5:30 p.m.
Follow DePauw Athletics on Twitter | Become a Fan of DePauw Athletics on Facebook
Back