DePauw Forces Overtime; Finishes Second at SCAC Championship
November 8, 2009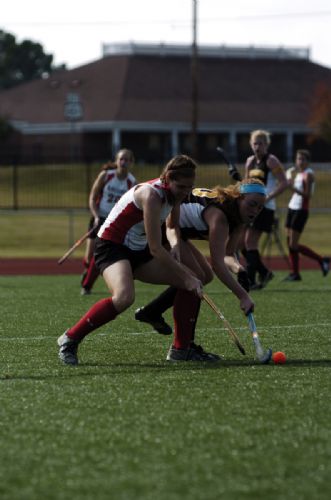 November 8, 2009, Conway, Ark. — DePauw scored off a penalty corner with no time left in regulation, but Rhodes delivered the game-winner just 51 seconds into the first overtime and claimed a 2-1 win over the Tigers in the Southern Collegiate Athletic Conference Field Hockey Championship game.
DePauw finished the season at 12-8, while Rhodes improved to 13-4.
After a scoreless first half, Libby Jones gave Rhodes a 1-0 lead at 44:24 on Lindsey Gurkovich's assist. As time ran down and the final horn sounded, the Tigers were awarded three consecutive penalty corners with Jen Snow forcing the extra session on Bridgette Shamleffer's assist on the final one.
Gurkovich then scored the deciding goal just 51 seconds into the overtime.
Rhodes held an 11-4 advantage in shots and led, 11-10, in corners. Liz Attewell recorded six saves for the Tigers and Meghan Cullen totaled two for Rhodes.
Follow DePauw Athletics on Twitter | Become a Fan of DePauw Athletics on Facebook
Back