DePauw Men Collect 16th Win with Victory at Sewanee
February 12, 2010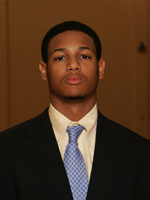 February 12, 2010, Sewanee, Tenn. — DePauw committed just six turnovers and allowed the fewest points all season in a 50-41 Southern Collegiate Athletic Conference win at Sewanee.
The Tigers improved to 16-6 overall and 9-4 in the SCAC, while Sewanee dropped to 4-18 overall and 1-13 in conference play.
DePauw jumped out to a 14-2 lead in the opening 7:11 of the contest, but Sewanee cut that lead to within three before going to the break trailing, 28-22.
David Gray, Tom Callen and Sean Haseley each scored on DePauw's opening three possessions of the second half to push the lead to 34-22. Trent Williams converted a three-point play for Sewanee and Tyler Brown followed with a three-point field goal to close the DePauw lead to just six with 16:08 remaining in the game.
Sewanee later closed the gap to 36-32 on Garrett Hollingsworth's bucket with 11:14 left. DePauw pushed the margin back to eight on a couple of occasions before Sewanee was within five with just over three minutes remaining.
Steve Lemasters hit a layup with 2:51 left which extended DePauw's lead to 44-37 and Sewanee failed to convert on its next three trips down the court. Tony James (pictured) hit two free throws with 55 seconds left to give DePauw a 46-37 lead. The hosts got no closer than seven the rest of the way.
James led the Tigers with 13 points and three steals, while Tommy Weakley followed with 11. Ryan Sever added six rebounds in the win.
Hollingsworth paced Sewanee with 13 points with Williams adding 11. Brown hauled down a game-high nine rebounds as Sewanee held a 38-25 edge on the boards.
While DePauw turned the ball over just six times, Sewanee totaled 22 giving DePauw a 25-6 advantage in points off turnovers. DePauw hit 36.7 percent from the floor to Sewanee's 39.5 percent, but DePauw was just 11-of-25 from the free throw line.
DePauw returns to action on Sunday at Oglethorpe with tipoff set for 2 p.m.
Follow DePauw Athletics on Twitter | Become a Fan of DePauw Athletics on Facebook
Back