Tigers Battle Their Way to SCAC Win over Rhodes
February 19, 2010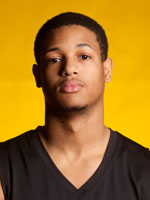 February 19, 2010, Greencastle, Ind. — Tony James (pictured) led DePauw with 16 points as the Tigers picked up a 53-36 Southern Collegiate Athletic Conference win over Rhodes. The Tigers improved to 17-7 overall and 10-5 in the SCAC, while the Lynx dropped to 10-14 overall and 4-11 in the conference.
The teams battled back-and-forth in the opening 20 minutes with nine lead changes and three ties before Rhodes took a 20-19 lead at the break.
DePauw pushed the lead to double digits midway through the second half, but Rhodes closed the gap to 41-34 after two free throws by Andrew Galow with 5:11 left. The Tigers turned the ball over on their next possession. however, the Lynx missed two free throws on their next trip down the court.
James and Sean Haseley hit back-to-back threes and James knocked in a pair of free throws with 1:28 remaining to cap an 8-0 run and extend the lead to 15.
James was the Tigers' lone double-figure scorer, while Galow paced Rhodes with 11 and Nathan Ollie followed with 10. David Gray paced DePauw with seven rebounds and four blocks and James handed out three assists. Kory Kilpatrick grabbed eight rebounds for the Lynx as DePauw held a 30-29 edge on the boards.
DePauw shot 37 percent for the game, but hit 50 percent in the second half, while Rhodes hit 31.7 percent from the floor and only 23.8 percent in the second half.
The Tigers return to action on Sunday when they host Birmingham-Southern at 2 p.m.
Follow DePauw Athletics on Twitter | Become a Fan of DePauw Athletics on Facebook
Back