Tigers Finish Sixth at SCAC Men's Golf Championships; Berra, Reardon Earn All-SCAC Honors
April 25, 2010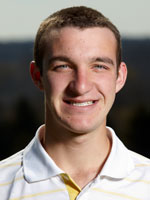 April 25, 2010, Stone Mountain, Ga. — DePauw shot a three-round total of 941 and finished sixth at the Southern Collegiate Athletic Conference Men's Golf Championships at the Stonemont Course.
The field included five top 25 teams with 25th-ranked Centre and 17th-ranked Southwestern sharing the top spot as each shot 926. Centre was awarded the title due to tiebreaking rules. Eighth-ranked Rhodes shot a 932 followed by sixth-ranked Oglethorpe with a 934 and 20th-ranked Trinity with a 938.
DePauw's Ryan Berra (pictured) and Nick Reardon each earned all-SCAC honors as Berra finished in seventh at 233 and Reardon tied for eighth at 234. Chase King and Ronnie Harris each tied for 14th with a 237 and Peter Haller was 35th with a 248.
Centre's Chris Morris was the medalist with a 216 which was seven strokes better than Ricky Jones of Southwestern who shot a 223.
Complete information is available from the official site.
2010 SCAC Championships
Stonemont Course
Stone Mountain, Ga.
Dates: 4/23-25/2010
Par 70  (9 teams, 44 players)

Centre College................ 307 308 311   926   +86   t- 1st
Chris Morris..................  73  71  72   216    +6      1st
Chris Conkright...............  76  77  82   235   +25   t-10th
Patrick Davidson..............  79  80  78   237   +27   t-13th
Lyndon Jones..................  79  80  79   238   +28     18th
Randy Boll....................  79  83  82   244   +34   t-27th

Southwestern University....... 312 309 305   926   +86   t- 1st
Ricky Jones...................  75  78  70   223   +13      2nd
James Charles.................  75  76  74   225   +15      3rd
Sean Madera...................  80  76  79   235   +25   t-10th
Mikey Vaughan.................  83  79  82   244   +34   t-27th
Cody Patrick..................  82  82  82   246   +36   t-30th

Rhodes College................ 310 312 310   932   +92      3rd
Bill Bazzel...................  76  76  76   228   +18      5th
Scott Wallace.................  76  84  77   237   +27   t-13th
Farrell Diliberto.............  80  81  78   239   +29   t-19th
Doug Gordon...................  78  79  82   239   +29   t-19th
Shay Womack...................  84  76  79   239   +29   t-19th

Oglethorpe University......... 310 309 315   934   +94      4th
Eric Quinn....................  78  76  77   231   +21      6th
Matthew Rebitch...............  76  78  80   234   +24   t- 8th
Scott Pugh....................  82  77  78   237   +27   t-13th
Michael Hicks.................  78  81  80   239   +29   t-19th
Craig Stevenson...............  78  78  wd 

Trinity University............ 315 314 309   938   +98      5th
Jonathan Alden................  75  77  74   226   +16      4th
Geoffrey Setiawan.............  78  81  77   236   +26     12th
Ryan Berry....................  85  76  78   239   +29   t-19th
Warren Taylor.................  78  81  84   243   +33   t-25th
Nasheel Kassam................  84  80  80   244   +34   t-27th

DePauw University............. 308 319 314   941  +101      6th
Ryan Berra....................  75  80  78   233   +23      7th
Nick Reardon..................  80  79  75   234   +24   t- 8th
Ronnie Harris.................  76  80  81   237   +27   t-13th
Chase King....................  77  80  80   237   +27   t-13th
Peter Haller..................  85  82  81   248   +38     34th

Sewanee....................... 336 329 338  1003  +163      7th
Chris Beveridge...............  82  82  75   239   +29   t-19th
Alex Irwin....................  88  79  82   249   +39     35th
Neil Dyer.....................  82  87  85   254   +44     36th
Will Stanley..................  84  81  96   261   +51     37th

2010 SCAC Championships
Stonemont Course
Stone Mountain, Ga.
Dates: 4/23-25/2010
Par 70  (9 teams, 44 players)

Millsaps College.............. 344 344 334  1022  +182      8th
Adam Haywood..................  85  80  78   243   +33   t-25th
Jerry Johnston................  81  86  79   246   +36   t-30th
Gabe Aguilar..................  91  87  84   262   +52     38th
James Sherrington.............  87  96  93   276   +66     39th
James McAuley.................  97  91  94   282   +72     41st

Hendrix College............... 355 345 342  1042  +202      9th
Michael Cathey................  80  86  80   246   +36   t-30th
Micah Graf....................  86  80  81   247   +37     33rd
James Ewing...................  92  93  93   278   +68     40th
Collin Ewer...................  97  98  97   292   +82     42nd
Dylan Veron...................  wd  86  88 

# Indicates individual player

Follow DePauw Athletics on Twitter | Become a Fan of DePauw Athletics on Facebook
Back