Keefe's Two Second-Half Goals Lifts Tigers to Victory
September 4, 2010
BOX SCORE | FIRST HALF PHOTO GALLERY | SECOND HALF PHOTO GALLERY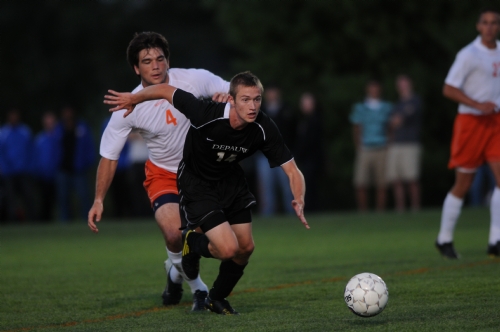 September 4, 2010, Greencastle, Ind. — Ryan Keefe scored a pair of second-half goals to propel DePauw to a 2-0 win over visiting Maryville (Tenn.) in the Robbie Dreher Memorial Wabash Classic at Boswell Field. The Tigers improved to 2-0 with the victory, while the Scots dropped to 0-1.
Keefe's first score came at 58:08 on an assist from Sam Meyer, while the second came just 2:20 later on Matt Schoenfeld's assist.
Nate Sprenkel recorded five saves in posting his second shutout in as many games this season. Bryan Walker tallied three saves for Maryville.
The Tigers outshot Maryville, 9-7, while the Scots held a 3-0 edge in corners.
DePauw hosts Spalding at 3:30 p.m. tomorrow. The Golden Eagles lost by a 5-0 count at Wabash today.
Follow DePauw Athletics on Twitter | Become a Fan of DePauw Athletics on Facebook
Back