#12 DePauw Stays Perfect in SCAC with Seventh Straight Win
January 9, 2011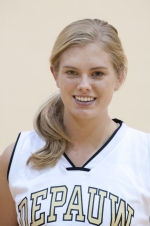 January 9, 2011, Sewanee, Tenn. — Twelfth-ranked DePauw shot 54.8 percent from the field and held Sewanee to just 22 percent in earning an 87-31 Southern Collegiate Athletic Conference win at Sewanee.
DePauw improved to 12-2 overall and 5-0 in the SCAC, while Sewanee dropped to 2-10 overall and 0-5 in the conference. The win was DePauw's 19th straight SCAC victory dating back to December 2009.
The Tigers broke the game open early as they extended a 5-3 lead to 28-6 with a 23-3 run. DePauw scored the last six points of the first half to head to the intermission with a 44-19 advantage.
Ellie Pearson (pictured) led four DePauw double-figure scorers with 12, while Lauren Goff added 11. Katie Mathews and Maddie Radcliff followed with 10 each with Radcliff's establishing a career high. Pearson and Katie Aldrich each grabbed eight rebounds as the Tigers held a 45-21 edge on the boards.
Claire Elliott and Dani Kabbes each had eight points for Sewanee.
The Tigers shot a season-best 54.8 percent from the field including 64.3 percent in the second half, while Sewanee shot 22 percent for the contest and just 17.9 percent in the second half. DePauw knocked down 9-of-15 from beyond the three-point arc in the win.
DePauw returns home on Friday, January 14, when it hosts Millsaps at 6 p.m.
Follow DePauw Athletics on Twitter | Become a Fan of DePauw Athletics on Facebook
Back