Centre Tops DePauw in SCAC Men's Title Game as Tigers' Rally Falls Short
February 27, 2011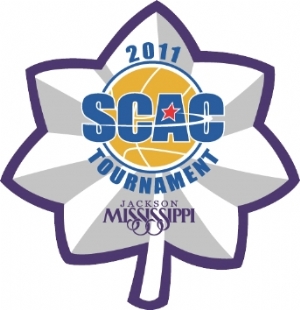 February 27, 2011, Jackson, Miss. — After trailing by as many as 17 points, DePauw battled back to within three, but Centre held off the Tigers and claimed a 75-63 victory and captured its third straight Southern Collegiate Athletic Conference Men's Basketball Tournament championship.
DePauw finished its season at 19-9, while Centre improved to 21-5 and earned the conference's automatic qualification into the NCAA Division III Championship.
Centre scored the game's first five points and later used a 15-3 run to grab a 29-12 lead. The Colonels led at halftime, 31-18. The first-half shooting numbers told the story as the Tigers hit just 25 percent and the Colonels knocked down nearly 61 percent of their shots.
The Colonels maintained a 44-27 advantage early in the second half, but the Tigers started chipping away with Steve Lemasters' three and Ryan Sever's layup which closed the margin to 12 just one minute later.
Donovan Whiteside nailed a three for Centre, but the Tigers scored six straight to cut the Colonels' lead to single digits at 47-38. Centre's Greg Ross hit a pair of free throws to push the margin back to 11, but Sean Haseley's bucket and Sever's three made it 49-43 with just over 11 minutes to play.
The Tigers got as close as three with the last coming at 54-51 with eight minutes remaining, but Ross scored on a layup and Bryon Ellis nailed a three at the start of a 13-2 run which put the game away.
Haseley paced DePauw with a double-double of 20 points and 10 rebounds and scored 15 points in the second half. Sever finished with 14 points in the loss.
Ross led Centre with 23 points with Alex Lloyd adding 16 points and a game-high 13 rebounds. Ellis scored 13 followed by Whiteside with 12 and Jeff Mullaney with 10.
DePauw shot 45.3 percent for the game after hitting 62 percent in the second half, while Centre connected on 55.8 percent. The Colonels also held a 29-21 edge on the boards.
Sever and Haseley earned spots on the all-tournament team.
Follow DePauw Athletics on Twitter | Become a Fan of DePauw Athletics on Facebook
Back