Tigers roll to NCAA first-round win
March 3, 2004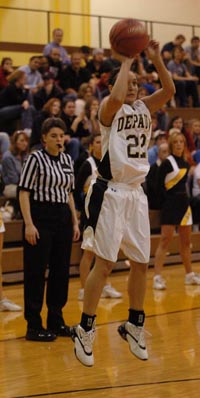 Greencastle, Ind. - DePauw advanced to the second round of the NCAA Division III Women's Basketball Championship following an 88-44 win over visiting Aurora at the Neal Fieldhouse. The Spartans closed their season at 11-18. The 26-3 Tigers travel to Thomas More on Saturday, March 6, for a 7 p.m. second-round game against the 20-5 Saints.
The Tigers shot a blistering 62.5 percent from three-point range (10-16) and connected on 53.1 percent of all of their field goal tries in picking up their 16th straight win and tying the school record for wins in a season. Meanwhile, DePauw put together a solid defensive effort in holding the Spartans to just 30.5 percent shooting from the floor.
DePauw trailed 5-2 in the first two minutes, but after a 25-4 run the Tigers took control of the contest. Jordan Cuddy's three-pointer as time expired in the first half pushed DePauw's lead to 44-18 at the break.
Picking up where they left off in the first half, the Tigers opened the final 20 minutes with an 8-0 run as Sarah Zondor scored a three-point play before Amy Argetsinger hit a jumper and Zondor buried a three to give DePauw a 52-18 lead 17:30 left.
One key for the Tigers was their 40-30 advantage on the boards including a 19-9 edge in the first half.
"We knew rebounding was crucial," DePauw head coach Kris Huffman said. "We did a tremendous job in the first half in keeping them off the boards. Our ball pressure was good and we fronted the post well."
"Our strength is our post play and and when we get shut down we struggle," Aurora coach Jennifer Buckley said. "I've never looked at a stat sheet and seen only nine rebounds for us at the half."
Freshman guard Jordan Cuddy paced DePauw with 15 points and six rebounds, while Zondor added 14 points. Argetsinger followed with 12 and Megan Blood notched a career high with 10 points. Beth Plucinski led Aurora with 11 points, while Courtney Lollard grabbed a game-high 10 rebounds.
"We weren't worried about our record going in," Aurora senior Tina Brooks said. "In the postseason everyone starts with the same record, 0-0."
"It's not just one or two great players on their team," Brooks said regarding DePauw. "All five on the floor are great players. They took it at us today and didn't let up."
DePauw equaled its second-best assist total of the season with 25 and committed a season-low eight turnovers. Suzy Doughty dished out six assists and recorded four steals in the victory.
"We just got beat by a great team tonight," Buckley said. We started out with a burst but then defensively the wheels came off."
Argetsinger recognized the impact of the largest crowd of the season. "The home crowd was awesome. It was so exciting," she said.
Back