NCAA Sectional Tips Off Tonight; DePauw Game Notes Posted
March 10, 2006
LIVE STATS | LISTEN LIVE | DEPAUW GAME NOTES
OFFICIAL TOURNAMENT SITE | LODGING INFORMATION | LILLY CENTER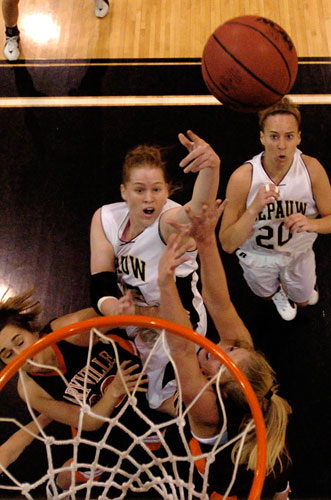 March 6, 2006, Greencastle, Ind. - DePauw University has been selected as one of four sectional hosts in the NCAA Division III Women's Basketball Championship which takes place March 10-11 in the Neal Fieldhouse at DePauw's Lilly Center.
Play begins on Friday at 5 p.m. with 29-1 Hope College taking on 25-2 Washington University. The 7 p.m. contest pits 25-4 Wheaton (Ill.) College against 28-1 DePauw University. The winners will meet on Saturday, March 11, at 7 p.m. with that winner advancing to the Division III semifinals in Springfield, Mass.
General admission tickets, available at the door, are $7 for adults, $4 for senior citizens, students and children ages two and older. Children under two years of age will be admitted free of charge. The DePauw athletic department will cover the ticket costs for DePauw students who show their student ID at the gate. The doors open at 4 p.m. on Friday. Ticket sales for Saturday's games go on sale at 6 p.m. on Saturday.
The four-team field features three teams ranked in the top six of last week's D3hoops.com Top 25 Poll and three of the top five in the USA Today/ESPN Coaches' Poll.
DePauw, ranked fourth in the latest D3hoops.com rankings and fifth in the USA Today/ESPN Coaches' poll, enters the round of 16 on a 27-game win streak after defeating Maryville (Tenn.) in the second round by an 86-58 score. The Tigers are appearing in their seventh tournament with an all-time record of 8-6 including a third-place finish in 2002.
Hope, ranked sixth by D3hoops.com and fourth in the coaches' poll, enters the weekend on a 26-game win streak after defeating Denison (71-52) and Capital (75-56) in the opening two rounds. The Flying Dutch are appearing in their eighth Championship with an all-time record of 10-6 including a national title in 1990.
Washington is ranked third in both national polls and has won 12 straight after a 70-54 win over Manchester in the first round and a 78-66 victory against Carroll (Wis.) in the second. Washington has appeared in 18 tournaments and recorded a 37-15 record. The Bears won four straight national championships from 1998 through 2001, finished second in 1994 and fourth in 1991.
Wheaton, ranked 14th by D3hoops.com and 18th in the coaches' poll, has won six straight including a 66-50 first-round victory over Rockford and a 75-48 win over Maryville (Mo.) in the second. Wheaton is appearing in its sixth Championship with an all-time record of 4-5.
Back