Tigers' season comes to end in quarterfinals
March 11, 2006
BOX SCORE | PHOTO GALLERY (to come)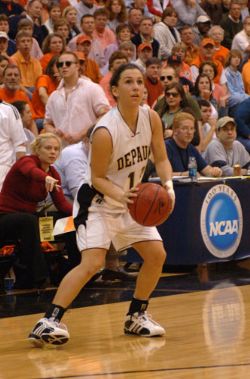 March 11, 2006, Greencastle, Ind. - DePauw's record-setting season came to an end tonight in the NCAA Division III Great Lakes/Central Sectional final after a 76-60 loss to Hope College. The Tigers brought the nation's longest win streak into the contest at 28 games and finished the season at 29-2. Hope advances to the national semifinals with its 28th straight victory as it improved to 31-1.
"Hope has so many weapons and we just couldn't stop them," DePauw coach Kris Huffman said.
The first half was a tight battle throughout with six ties and six lead changes. DePauw's Cassie Pruzin hit two free throws and a three-pointer to give DePauw a 28-26 lead with 5:50 left in the half, but the Flying Dutch outscored the Tigers 7-1 the rest of the way and led at the intermission, 33-29.
Hope opened the second half by extending the lead to seven after Jordyn Boles nailed a three-pointer with 15:50 left. The Tigers scored seven straight capped by Bridget Bailey's jumper and tied the score at 42-42 with just under 14 minutes remaining.
The Tigers were still within one after a pair of Liz Bondi free throws, but Hope fought off the charge with Julie Henderson's three-point play and a Linda Ebel's layup to make it 51-46 with 10:41 remaining.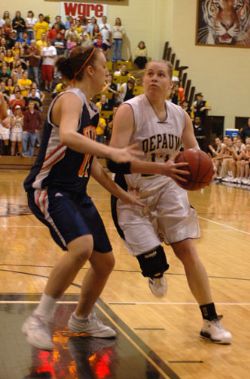 DePauw closed to within four two more times, but Ebels scored on a layup and Boles nailed a three to push the margin to 58-49 with 8:25 left. Hope's lead was eight at 68-60 with just over three minutes remaining before Boles knocked down another three and the Flying Dutch hit five of their next six free throws to wrap up the scoring.
Boles, the sectional's most outstanding player, led all scorers with 20, while Henderson added 15 and Ebels 13 along with a game-high nine rebounds. Henderson and Boles each dished out six assists in the victory.
Pruzin paced the Tigers with 16 and Bondi added 12, while Lindsay Houin grabbed a team-high seven boards.
Hope shot just 41.9 percent from the floor, but the Tigers had their second-worst shooting performance of the season at 31.1 percent including just 28.1 percent in the first half. Hope won the battle of the boards, 52-34 and hauled down 15 on the offensive glass.
"It's hard to make up for that rebounding margin and we just couldn't buy a bucket," Huffman said.
"We have a lot of players that play well together," Hope coach Brian Morehouse said. "I told the girls we wouldn't have a chance if we didn't outrebound our opponent.
Ebels joined Boles on the all-sectional team along with DePauw's Liz Bondi and Gretchen Haehl, Wheaton's Jill Trenz and Washington's Kelly Manning.
Back