DePauw Ranked Sixth in Both National Polls
December 19, 2007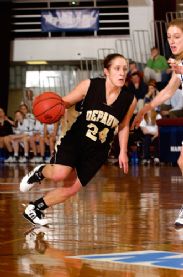 December 19, 2007, Greencastle, Ind. - DePauw moved up one spot in one national poll and two places in another and now ranked sixth in both Division III national rankings.
The Tigers are up one spot in the D3hoops.com Top 25 Poll after ranking seventh last week and totaled 446 points. Mary Washington leads with 609 points and 16 first-place votes. Hope is second followed by Howard Payne, New York University and Wisconsin-Whitewater.
This is the Tigers' 59th straight week in the D3hoops.com Top 25 and 100th ranking overall since the poll started in 1999.
DePauw jumped two places in the USA Today/ESPN Coaches' Poll with 192 points. Hope tops that poll with 246 points and seven first-place votes. howard Payne and Mary Washington are tied for second followed by Wisconsin-Whitewater and New York University.
The Tigers competes in the Caribbean Hoops Showdown in Cancun, Mexico, on Thursday and Friday. DePauw faces 5-4 King's College on Thursday and 9-1 Messiah on Friday. Messiah is ranked seventh in D3hoops.com and 11th in the coaches' poll. Both games start at 2:30 p.m. CST, but there will be no live stats
Back