Sixth-ranked Tigers Set to Host NCAA First and Second Round Games
March 6, 2008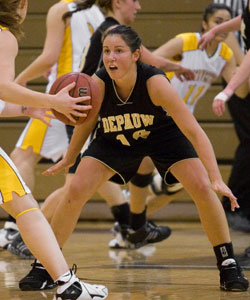 March 6, 2008, Greencastle, Ind. - The 25-3 and sixth-ranked Tigers return to action tonight when they host first and second-round games of the 2008 NCAA Division III Women's Basketball Championship at the Lilly Center's Neal Fieldhouse. Host Site with Links to Live Audio and Live Stats
DePauw opens play at 7 p.m. when it hosts 18-10 Denison University. The Big Red earned a spot in the 63-team field by winning the North Coast Athletic Conference tournament last Saturday.
In the 5 p.m. opening game, Washington University (18-7) takes on Wilmington College (21-7). Each earned at-large berths into the national tournament.
The winners meet in a 7 p.m. second round game on Saturday. Tickets are available at the gate both days beginning at 4 p.m. on Friday and 6 p.m. on Saturday. Adult tickets are $6, while students, senior citizens and children two and above are $3. Children under the age of two and DePauw students with valid student ID will be admitted free.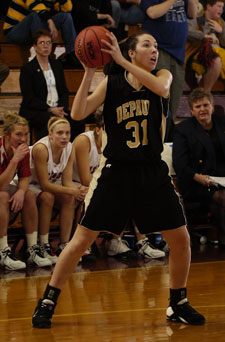 DePauw enters the tournament on a 14-game win streak and has won 24 straight home games dating back to an NCAA quarterfinal loss to eventual national champion Hope on March 11, 2006.
The Tigers earned a spot in the tournament after defeating Oglethorpe by a 72-69 score in last Sunday's Southern Collegiate Athletic Conference championship game. The defending national champions are making their fifth straight appearance in the tournament and ninth in 13 years. The Tigers are 15-7 in tournament games including an 8-2 mark at home.
Denison finished fourth in the NCAC regular season standings, but knocked off conference tournament top-seed Kenyon, 43-42, in the semifinals and avenged a 21-point loss just 16 days earlier. The Big Red then topped Wittenberg by 11 in the title game to earn the automatic bid.
This marks the second straight season Denison faces the defending national champion in the first round as the Big Red defeated Hope last year by an 82-66 score at DePauw. Denison then bowed out of the tournament after a 74-66 loss to DePauw.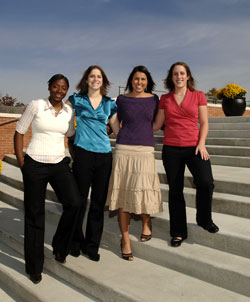 Denison is making its fifth NCAA appearance and fourth straight with a 2-4 all-time tourney record.
Washington finished the season with six wins in their last eight games but is coming off a 76-53 loss at Chicago last Saturday.
The Bears lost to DePauw in last year's Division III title game and are making their 20th NCAA appearance and 19th straight with an all-time record of 42-17. Washington won four straight national titles from 1998 through 2001, were runners-up twice and finished fourth once.
Wilmington is appearing in its sixth national tournament with an 11-4 all-time record. The Quakers won the 2004 national title. In 2002, DePauw defeated Wilmington in the national quarterfinals at Wilmington.
Back