Tigers Lead All the Way in Win over Spalding
December 28, 2008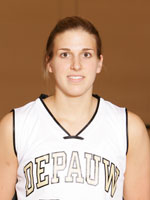 December 28, 2008, Greencastle, Ind. — DePauw scored 13 straight in an early four-minute stretch and never trailed in a 70-59 win over Spalding in the second game of the Amy Hasbrook Memorial Classic.
The Tigers improved to 7-3 with their fourth straight win, while Spalding's dropped to 6-4 as its six-game win string came to an end. The win was also DePauw's 29th straight at home and 46th consecutive regular season home victory.
With the game tied at 2-2, five different Tigers contributed to the 13-0 run which gave DePauw a 15-2 advantage. The Tigers took a 31-21 lead into the break before opening the second half with an 18-4 stretch for its biggest lead of the game at 49-25 with 12:52 left.
The Golden Eagles put together a 14-4 stretch to pull to within 14 at 53-39 with 8:19 remaining and eventually made it 57-47 with just under six minutes left. DePauw pushed the lead back to 15 with 1:15 remaining before Spalding got as close as nine with 31 seconds left.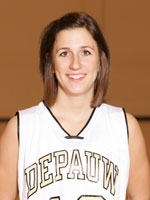 Katie Mathews (pictured above) paced the Tigers with 19 including 15 in the second half, while Cassie Pruzin and Emily Marshall each scored 10. Pruzin (pictured right) led the Tigers with eight rebounds, eight assists and four steals.
Kristen Pendleton led Spalding with 13 points followed by Cee Cee Richardson with 12. Beth Jamison grabbed six boards for the Golden Eagles.
DePauw connected on 45.5 percent from the floor, while Spalding hit 40 percent. The Tigers also held a 41-23 edge on the boards including 15 on the offensive glass as they outscored Spalding 15-0 in second-chance points.
The Tigers face Trine on Monday at 4 p.m., while Spalding takes on Centre at 2 p.m. Centre defeated Trine by a 48-37 count in the evening's first game.
Complete scores and schedule for the Classic are available here.
Back