DePauw Goes after Fifth Straight Win This Afternoon
December 29, 2008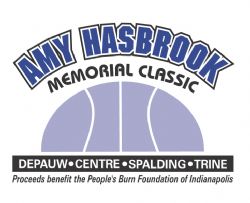 December 29, 2008, Greencastle, Ind. — Coming off last night's 70-59 win over Spalding in the Amy Hasbrook Classic, the 7-3 Tigers aim for their fifth straight win when they host Trine University at 4 p.m. The Thunder are 5-6 on the season after last night's 48-37 loss to Centre.
Katie Mathews led DePauw with 19 in last night's win, while Cassie Pruzin and Emily Marshall each added 10. Pruzin paced the Tigers with eight rebounds, eight assists and four steals. The win was DePauw's 29th straight at home and 46th consecutive regular season home victory.
Today's DePauw game will be carried live by WGRE. Live stats are available for the game and also for the Spalding vs. Centre contest at 2 p.m.
Game notes are available for download, while the complete tournament schedule with links to stories and box scores is accessible here.
The tournament honors the memory of former Tiger Amy Hasbrook '00, who died in a house fire on Feb. 4, 2002. Donations will be accepted with all tournament proceeds being donated to the People's Burn Foundation of Indianapolis in Amy's name.
Suggested donation for each day will be $5 for adults, and $2 for students. Children will be admitted free of charge.
Admission tickets will allow fans to win prizes at halftime of each game. Other activities will also take place, with all proceeds benefitting the People's Burn Foundation.
Back