Tigers Top Lynx for Eighth Straight Win; Equal Single-Game Three-Point Mark
January 11, 2009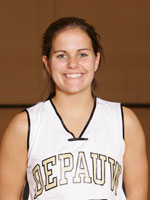 January 11, 2009, Greencastle, Ind. — DePauw improved to 11-3 overall and 3-1 in the Southern Collegiate Athletic Conference following an 85-51 victory over Rhodes. The Lynx dropped to 8-6 overall and 1-3 in the conference.
The win, DePauw's eighth straight of the season, extended the Tigers' home win streak to 33 and its SCAC home string to 41. It also was the Tigers' 50th straight regular season home win.
DePauw used a 12-2 run midway through the first half to stretch an eight-point lead to 18 as the Tigers took a 39-25 lead into the intermission.
The Lynx closed to within 12 early in the second half, but the Tigers scored six straight and later put together a 10-0 run which sealed the win.
Lauren Goff (pictured) notched a career high with 15 points on 5-of-6 three-pointers. The sophomore hit her first five threes including all four in the first half with three in a 1:05 stretch.
Danielle Boraz and Cassie Pruzin each followed with 11, while Katie Aldrich grabbed a career-high nine rebounds as the Tigers held a 53-25 advantage on the boards. Pruzin dished out four assists in the win.
Becky Atnip paced Rhodes with 16 points, while LeKeya McGill added 13 and Kristen Lytle followed with 10. Cameron Whitaker grabbed five rebounds in the loss.
The Tigers shot 42.9 percent for the game, while Rhodes connected on just 34 percent and only 29.6 percent in the first half. DePauw equaled a school record with 12 three-pointers as it was 12-of-23 from long range. In all, six different Tigers knocked down threes.
DePauw returns to action on Friday, January 16, when it hosts Austin at 8 p.m.
Back