DePauw's Season Comes to an End at Hope in NCAA First Round
March 4, 2011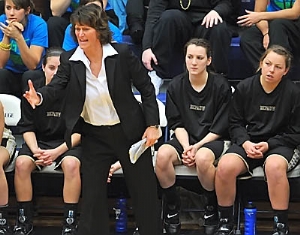 March 4, 2011, Holland, Mich. — Host Hope College used a 19-2 run early in the second half to extend a four-point lead to 21 and advanced to the NCAA Division III Women's Basketball Championship Second Round with a 77-65 win over DePauw.
The Tigers, ranked eighth by D3hoops.com and ninth in the latest USA Today/ESPN Coaches' Poll finished their season with a 25-4 record. Hope, ranked fourth by D3hoops.com and sixth in the Coaches' Poll, improved to 27-2 and advanced to tomorrow's second round game. The Flying Dutch take on Washington-St. Louis which defeated previously unbeaten Denison, 71-55.
It took over two minutes before the game's first points were scored with Katie Mathews giving DePauw its only lead of the game. Hope scored seven straight and later led by as many as 12 on two occasions. DePauw scored the final six points of the half to close the margin to 39-33 at the break.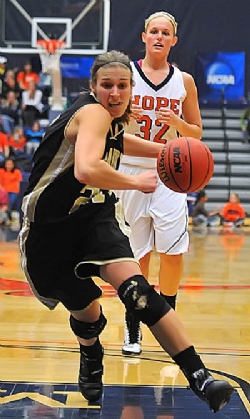 Lauren Goff hit a pair of free throws in the opening minute of the second half to trim the Flying Dutch lead to four points, but Carrie Snikkers and Miranda DeKuiper each hit jumpers which started an 8-0 run and gave Hope a 47-35 advantage with 16:56 left.
Mathews stopped the run with a bucket, but Snikkers converted a three-point play before Liz Ellis and Maddie Burnett each hit threes and Meredith Kussmaul made a two-pointer to give Hope a 58-37 lead at the 14-minute mark.
That lead reached as many as 28 points at 70-42 with 9:39 remaining. DePauw outscored Hope 23-7 over the final nine minutes for the final, 12-point margin.
Mathews and Katie Aldrich each scored 14 points for the Tigers, while Snikkers paced Hope with 21 followed by Ellis with 16 and Erika Bruinsma with 12.
DePauw held a 33-30 edge on the boards with Alex Gasaway hauling down nine. Bruinsma and Snikkers each grabbed six for Hope. Kate Walker led the Tigers with five assists, while Hope's Lauren Geers totaled three.
Hope shot 54.3 percent for the game including 56.5 percent in the first half. The Flying Dutch also nailed 10-of-18 three-pointers. DePauw connected on 35.7 percent from the field and hit just 3-of-15 from beyond the arc.
NOTES
DePauw's three seniors Lauren Goff, Katie Mathews and Brooke Osborne finished their careers with a 101-18 record and ranked fifth in wins for a DePauw class.
Katie Mathews finished her collegiate career with 1,019 points which ranks 10th in school history.
Lauren Goff's 160 career three-pointers ranks third in DePauw history. Her 71 three-pointers this year equaled the second-best single-season total in school history.
Mathews finished fifth in DePauw history with 329 assists.
Ellie Pearson's 254 rebounds this year were the third most in a DePauw season.
The Tigers have appeared in eight straight NCAA Championships and 12 in the last 16 years with a 19-11 all-time postseason record. DePauw entered the tournament with the ninth best tournament winning percentage among schools which have played 25 games.
Back