DePauw to host SCAC Women's Cross Country Championships
October 31, 2003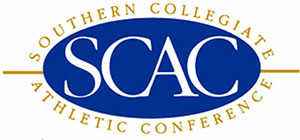 DePauw University serves as host to the 2003 Southern Collegiate Athletic Conference Men's and Women's Cross Country Championships on Saturday, November 1. Competition takes place at the LaVern Gibson Cross Country Course just east of Terre Haute.
The women's race begins at 10 a.m. with the men's competition following at 11 a.m. This year marks the 13th year the conference has sponsored the championships.
Rhodes College won its second straight team title in 2002 with 39 points followed by Trinity University with 57 and DePauw with 59. DePauw's Natalie Shaffer was the 2002 individual champion with the second-fastest time in SCAC history at 18:28 over the five kilometer course. Robert Shankman of Rhodes was the 2002 SCAC Coach of the Year.
DePauw's men won for the third straight year in 2002 with 17 points followed by Rhodes with 66 and Centre College with 87. DePauw's Graham Wellman won the individual time in an SCAC-record 25:53 over the eight kilometer course and his coach, Kori Stoffregen, was named the SCAC Coach of the Year.
For complete information on the 2003 SCAC Cross Country Championships, please visit the official site.
Back