1999 DePauw Field Hockey Archives
Gasbarra Named Head Coach
Carla Gasbarra, a 1995 DePauw graduate, has been named the University's field hockey coach. She replaces Judy George who announced her retirement in April after over 30 years of coaching. Complete Release

Coach George announces retirement
DePauw field hockey coach Judy George, who has directed the Tigers for over 30 years, has announced her retirement from coaching. Complete story
Hamilton, Duckworth earn all-America honors
DePauw sophomore back Cara Duckworth and senior goalie Liz Hamilton have each earned second team all-America honors by the National Field Hockey Coaches Association. The pair spearheaded a defensive attack that allowed opposing teams just nine goals all season and recorded 15 shutouts on the way to a 17-3 finish. Hamilton recorded 11.5 shutouts and a 0.40 goals against average. Duckworth scored eight goals and added seven assists in her second season. Here is the complete all-America team.
DePauw loses heartbreaker in NCAA Championship Second Round
The Tigers battled Rowan University to a 1-1 tie through regulation, but the Profs scored just 38 seconds into the first overtime to take the 2-1 victory. Rowan scored with 7:24 left in the first half before Lisa Goecke knotted the score on Katie Turrentine's assist with 29:17 remaining in the second. Rowan outshot the Tigers 18-3, but goalie Liz Hamilton recorded 14 saves. The Tigers finished the season with a school-record 17 wins against just three losses.
Tigers earn second trip to NCAA Championship
The 17-2 Tigers travel to Springfield College for a Saturday game with 17-2 Rowan University in the second round of the NCAA Division III Championship. Game time is set for 7:30 p.m. The winner faces the winner of 12-2 Bowdoin against 18-3 Springfield.
Tigers fall to Sewanee 3-2 in overtime
The Tigers battled back from a 2-0 first half deficit to tie the game in the second half on a pair of goals from Katie Turrentine, but Sewanee scored the game-winner in the first overtime to take the 3-2 win.
DePauw loses for the first time this season as Wooster wins 2-1 in overtime
Cindy Davis gave the Tigers a first-half lead against Wooster, but the Fighting Scots scored with 25:47 left in the second half and again with 10:11 left in the first overtime to end the Tigers' unbeaten season with a 2-1 win. DePauw outshot Wooster 22-12, but were scored upon for just the third game this season. The Tigers now take on Sewanee for the third time this season. Sewanee lost to Denison 3-1 on Saturday.
Tigers remain eighth in latest Division III poll
With four wins last week the Tigers remained unbeaten and ranked eighth in Division III with a 17-0 record. NFHCA Division III Rankings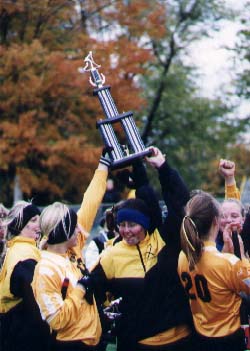 Tigers win KIT title; Lill named MVP
Three wins in two days gave the Tigers the KIT title and it came down to a nail-biter with Sewanee. After opening with wins over Lindenwood (7-0) and Bellarmine (4-0), the Tigers squared off with Sewanee for the second time in two weeks. Both times the Old Gold prevailed by a 1-0 score. Chris Brown scored the Tigers' lone goal with 18:52 left in the second half. Emily Lill was named the MVP of the tourney, while Katie Turrentine and Chris Brown were named to the all-tournament team. The Tigers' shutout was their 12th straight as they've now outscored opponents, 74-2. Complete tournament results and all-tournament team. | FULL STORY
Eighth-ranked Tigers move to 14-0 with 4-0 win over Wittenberg
The Tigers, ranked eighth in the latest NFHCA Division III poll, recorded their 12th shutout of the season and remained unbeaten at 14-0 with a 4-0 win over visiting Wittenberg. Dawn Ahlgren and Katie Turrentine scored first half goals with Cindy Davis and Cara Duckworth adding second-half tallies in the victory. Elissa Cady, Emily Lill and Duckworth added assists. GAME STATISTICS
Tigers post 11th shutout and remain unbeaten with 5-0 win over Kenyon
Elissa Cady scored twice, while Cara Duckworth, Cindy Davis and Kari Koeper added one goal each to lead the seventh-ranked Tigers to a 5-0 win over visiting Kenyon. The Tigers host Wittenberg on Tuesday. STATS
Seventh-ranked Tigers improve to 12-0 with 2-0 shutout over Ohio Wesleyan
The Tigers, ranked seventh in the latest NFHCA Division III poll, defeated Ohio Wesleyan 2-0 on the road. Cindy Davis and Lisa Goecke scored the Tigers' goals with assists from Kari Koeper and Davis, respectively. Liz Hamilton recorded the Tigers' 10th shutout of the season. STATS
Eighth-ranked Tigers sweep weekend competition to move to 11-0
The Tigers blanked Rhodes 5-0 and Sewanee 1-0 to remain unbeaten at 11-0. Cara Duckworth and Lisa Goecke each scored twice in the Rhodes win, while Elissa Cady scored the lone goal at Sewanee. The Tigers have now shut out nine opponents this season and allowed just two goals. Last Thursday's game with Bellarmine has been rescheduled for a date to be determined.
DePauw moves up to eighth in Division III rankings
With a pair of shutout wins, the Tigers moved to eighth in the NFHCA Division III rankings.
Tigers continue best start ever with 10-0 home win over Transylvania
The ninth-ranked Tigers, off to the best start in school history at 9-0, blanked their fourth straight opponent in defeating Transylvania 10-0. Katie Turrentine, Cindy Davis, Dawn Ahlgren and Kari Koeper each scored twice while Elissa Cady added three assists in the win. Liz Hamilton posted the shutout in goal.
Ninth-ranked Tigers top Lindenwood, 7-0
The Tigers won for the eighth straight time in defeating Lindenwood 7-0. Lisa Goecke had a hat trick for DePauw with three goals and Elissa Cady had two assists. Liz Hamilton earned the shutout in goal.
DePauw ranked ninth in Division III
With Sunday's win over Denison University, the Tigers have moved into the top 10 in the NFHCA national poll at ninth. The Tigers received one first-place vote.
Tigers knock off ninth-ranked Denison to move to 7-0
Katie Turrentine's goal with 2:07 left in the first overtime with an assist from Chris Brown gave the 12th-ranked Tigers a 1-0 victory over ninth-ranked Denison and preserved their unbeaten season. Liz Hamilton posted the shutout in goal for the Tigers. GAME STORY
DePauw moves to 6-0 with 10-0 win over Hanover
The Tigers scored a season-high 10 goals in defeating Hanover 10-0 at McKeen Field. Dawn Ahlgren scored a hat trick, while Elissa Cady and Lisa Goecke each scored twice. The 12th-ranked Tigers take on ninth-ranked Denison on Sunday.
Tigers slip to 12th in Division III poll
Despite remaining unbeaten with a 2-1 win over Centre, the DePauw field hockey team fell two spots in the weekly Division III poll. The Tigers host Hanover on Saturday and ninth-ranked Denison on Sunday.
Tigers remain unbeaten with 2-1 win over Centre
The 10th ranked Tigers and visiting Centre battled to a scoreless tie in the first half before Dawn Ahlgren and Katie Turrentine scored in the first 15 minutes of the second half to give the Tigers a 2-0 lead. Centre's Beth Moses scored the Colonels lone goal with just 1:57 left in the game.
Tigers ranked 10th in Division III poll
Bolstered by four straight wins to open the season, the Tigers are ranked 10th in NCAA Division III by the National Field Hockey Coaches Association. DePauw received 180 points in the first poll of the season. SUNY-Cortland was first with 492 points.
DePauw caps off perfect weekend with 2-0 win over Oberlin
Chris Brown and Lisa Goecke each scored once and assisted on the other's goal in the Tigers' 2-0 win over Oberlin. Joy Bjorseth and Liz Hamilton shared the shutout in goal. The win lifts the Tigers to 4-0 on the season.
Tigers move to 3-0 with 3-1 win at Wooster
DePauw made it three straight with a 3-1 win at the College of Wooster.Lisa Goecke scored with 15:30 left in the first half followed by Elissa Cady with and assist from Emily Lill with 11:42 remaining in the half. Wooster cut the margin to 2-1 early in the second half before Cindy Davis scored with 2:30 remaining on an assist from Chris Brown.Joy Bjorseth recorded three saves in goal and the Tigers outshot Wooster 26-5.
Tigers top Slippery Rock 1-0
DePauw improved to 2-0 with a 1-0 win at Division II Slippery Rock.
Tigers Roll in Season Opener
Cindy Davis scored a hattrick, while Elissa Cady added a goal and three assists as the Tigers blanked visiting Earlham College 9-0 at McKeen Field. The Tigers led just 2-0 at the half before scoring seven times in less than 26 minutes. Also adding goals for DePauw were Lisa Goecke, Chris Brown, Cara Duckworth, Dawn Ahlgren and Katie Turrentine.