Tigers Blank Transylvania; Improve to 3-2
September 13, 2009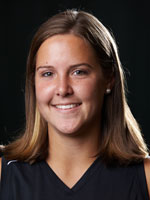 September 13, 2009, Greencastle, Ind. — Sarah Riffle and Katie Sowar combined to post four goals and four assists and lead DePauw to a 5-0 win over Transylvania at McKeen Field. The Tigers improved to 3-2, while the Pioneers dropped to 0-3.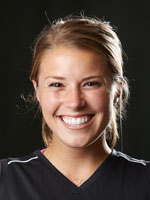 Riffle (pictured left) scored a hat trick with three goals and added two assists, while Sowar (pictured right) scored once and assisted on two others.
The Tigers jumped out to a 3-0 first-half lead as Sowar, Riffle and Kimberly Trainor each scored. Riffle added a pair of second half scores to wrap up the scoring.
DePauw outshot Transylvania, 42-6. Liz Attewell recorded the shutout in goal for the Tigers with four saves. alyssa Alfano had 19 saves for the Pioneers.
The Tigers return to action on Wednesday, September 16, when they travel to Wittenberg.
Back