Late Goals Send DePauw to Defeat in SCAC Title Game
November 7, 2010
BOX SCORE | PHOTO GALLERY | OFFICIAL SITE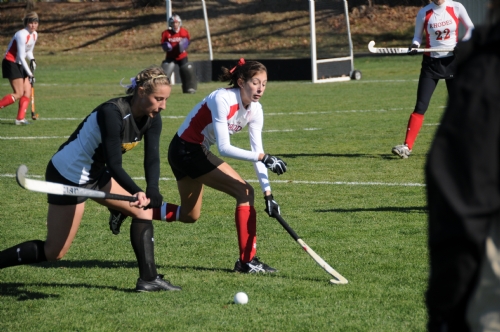 November 7, 2010, Greencastle, Ind. — Top-seeded Rhodes forced overtime with a goal in the final minute of regulation and then won the game with a score in the first minute of the extra session to take a 2-1 win over DePauw in the Southern Collegiate Athletic Conference Field Hockey Championship game.
Rhodes improved to 17-1 with the win, while DePauw finished its season at 13-7. The title was the second straight for the Lynx who also topped the Tigers by a 2-1 score last year with a goal in the first minute of overtime.
DePauw took the lead at 30:18 on Margaret Ellis' unassisted goal. That lead stood until 58 seconds remained when Rhodes' Libby Feaster knotted the score on Charlie Wagner's assist.
Katie Faucher then delivered the game-winning score just 59 seconds into the first overtime.
Rhodes held a 10-6 advantage in shots and a 12-6 margin in corners. Rhodes' Sarah Dockery totaled two saves and DePauw's Liz Attewell finished with five.
Follow DePauw Athletics on Twitter | Become a Fan of DePauw Athletics on Facebook
Back