Ellis and Broecker Collect SCAC Weekly Awards
September 7, 2010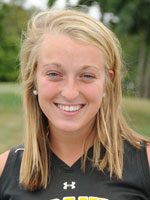 September 7, 2010, Greencastle, Ind. — DePauw sophomores Margaret Ellis and Katie Broecker came away with the top weekly honors from the Southern Collegiate Athletic Conference for their performances in the Tigers' three wins during the opening week of play. Ellis was named the SCAC Offensive Player of the Week, while Broecker was chosen as co-Defensive Player of the Week with Centre's Jennifer Bohnert.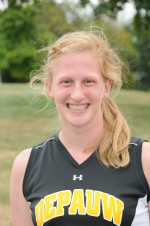 Ellis (left) led the Tiger offense three goals and three assists in the three games. She helped the Tigers gain a 2-0 advantage against Wittenberg, winning the ball from a defender, then making a strong pass to her teammate for the assist. After a scoreless first half on Saturday, Ellis put the Tigers on the board early in the second against Trine, scoring her first goal of the season on a penalty corner, then adding her second goal just 20 seconds later.
In the final game of the weekend, Ellis assisted on the Tigers' first goal off a penalty corner early in the first half and found the back of the goal on DePauw's first goal of the second half. She added an assist on the game's final goal. With Ellis helping to lead the way, the Tiger offense has generated 43 offensive corners and 13 goals so far this season.
Broecker (right) anchored the Tigers' defense which racked up three shutout victories in three games. Led by Broecker, the Tigers gave up only 10 shots and four defensive penalty corners for the week. In DePauw's season-opening game at Wittenberg, Broecker and the defense limited Wittenberg to seven shots and two corners, including zero corners during the first half. On Saturday Broecker's outstanding play limited Trine to zero shots and zero corners, while on Sunday Broecker and the Tiger defense held visiting Lindenwood to just three shots and two penalty corners.
Follow DePauw Athletics on Twitter | Become a Fan of DePauw Athletics on Facebook
Back