Ninth-ranked DePauw Wins Year's Opening Tournament
September 7, 2009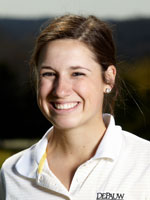 September 7, 2009, Anderson, Ind. — The ninth-ranked Tigers shot a second-round 313 and won the Anderson Invitational with a two-round 635 at the Killbuck Golf Course. Olivet was second with a 643 and Franklin finished third with a 650.
Kelly Gaughan (pictured) finished in a tie for second with a 155, while Erin Kielty was fourth at 156 including a 75 in the second round. Camila Romero followed with a 161, while Taylor Beaty and Samantha Stahler each shot 164.
DePauw competes in the O'Brien Classic in South Bend, Ind., September 13-14.
Anderson Fall Invitational
Killbuck G.C.
Anderson, Ind.
Dates: 9/5-6/2009
Par 71, 5814 yards  (9 teams, 44 players)

DePauw University............. 322 313   635   +67      1st
Kelly Gaughan.................  77  78   155   +13   t- 2nd
Erin Kielty...................  81  75   156   +14      4th
Camila Romero.................  82  79   161   +19   t- 9th
Taylor Beaty..................  83  81   164   +22   t-13th
Samantha Stahler..............  82  82   164   +22   t-13th

Olivet College................ 327 316   643   +75      2nd
Megan Rimmel..................  76  76   152   +10      1st
Lauren Campbell...............  81  76   157   +15   t- 5th
Abby Wheeler..................  79  87   166   +24     15th
Amber Conrad..................  91  77   168   +26     16th

Franklin College.............. 324 326   650   +82      3rd
Natalie Daugherty.............  78  80   158   +16      7th
Brittany Stephens.............  81  79   160   +18      8th
Brittany Brownrigg............  83  80   163   +21     12th
Sam Marshall..................  82  90   172   +30   t-20th
Grace Adams...................  89  87   176   +34   t-26th

Transylvania University....... 334 322   656   +88      4th
Janca Millett.................  82  75   157   +15   t- 5th
Megan Foley...................  82  79   161   +19   t- 9th
Miranda Richards..............  85  85   170   +28     18th
Sarah Slattery................  85  90   175   +33   t-23rd
Megan Graeter.................  99  83   182   +40   t-29th

Hanover College............... 342 319   661   +93      5th
Molly Burpo...................  80  75   155   +13   t- 2nd
Becky Roberts.................  86  76   162   +20     11th
Natosha Wood..................  89  82   171   +29     19th
Bridget Neal..................  88  86   174   +32     22nd
Paige Schroder................  88  88   176   +34   t-26th

Rose-Hulman Inst.............. 361 347   708  +140      6th
Allison Luther................  86  86   172   +30   t-20th
Stephanie Harrington..........  91  86   177   +35     28th
Lindsey Gault.................  93  89   182   +40   t-29th
Bailey Wagner.................  96  86   182   +40   t-29th
Bethany Brisco................  91 109   200   +58     40th

Manchester College............ 367 350   717  +149      7th
Jessica Fisk..................  89  86   175   +33   t-23rd
Chelsea Johnson...............  91  84   175   +33   t-23rd
Erica Hahn....................  95  89   184   +42     32nd
Mary McCauley.................  92  95   187   +45     33rd
Kaitlyn Balbo.................  98  91   189   +47   t-34th

Anderson Fall Invitational
Killbuck G.C.
Anderson, Ind.
Dates: 9/5-6/2009
Par 71, 5814 yards  (9 teams, 44 players)

Anderson University........... 387 372   759  +191      8th
Courtney Erickson.............  84  85   169   +27     17th
Bailey Hunt................... 106  86   192   +50     37th
Holly Cloyd................... 100  94   194   +52     38th
Hannah Wickard................  97 107   204   +62   t-41st
Kendria Stephens..............  wd   0 

Defiance College.............. 402 379   781  +213      9th
Phoenix Golnick...............  98  91   189   +47   t-34th
Tara Miller...................  99  91   190   +48     36th
Kelly Beard................... 100  98   198   +56     39th
Brittany Gow.................. 105  99   204   +62   t-41st
Taylor Tuttle................. 120 123   243  +101     43rd

# Indicates individual player

Back