DePauw Blanks Southwestern, 1-0
October 16, 2009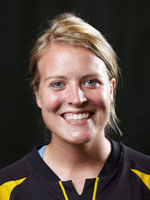 October 16, 2009, Georgetown, Texas — DePauw's Julia Drummond (left) scored the game's lone goal at 52:33 and lifted the Tigers to a 1-0 Southern Collegiate Athletic Conference win at Southwestern.
The Tigers improved to 5-5-4 overall and 3-1-2 in the SCAC, while the Pirates dropped to 7-5-1 overall and 1-1-1 in the conference.
DePauw held a 12-9 advantage in shots, while Southwestern led in corners, 4-1. Caroline Kerr recorded the shutout after recording six saves, while Southwestern's Cheryl Duncan stopped four shots.
DePauw travels to sixth-ranked Trinity on Sunday.
Follow DePauw Athletics on Twitter | Become a Fan of DePauw Athletics on Facebook
Back