Eight Tigers Earn All-SCAC Honors; Soultz Named Pitcher of the Year
May 21, 2008
May 21, 2008, Greencastle, Ind. - After capturing their first Southern Collegiate Athletic Conference championship, the 40-4 Tigers placed eight players on the all-SCAC teams selected by the conference's head coaches. The complete team is available here.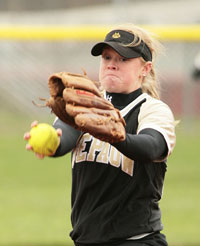 First team all-America selection Megan Soultz was named the conference's Pitcher of the Year after posting a 36-4 record with a 0.98 earned run average. Soultz led the SCAC and the nation in wins and paced the conference in ERA, innings pitched (265.1), appearances (44), opponent's batting average (.180) and strikeouts (260).
Her strikeout and win totals are both SCAC single-season records, breaking the respective marks of 162 and 20. In her first two seasons in the league, Soultz has already set the SCAC and DePauw career wins mark at 55 and is second all-time in the conference with a DePauw career record 418 strikeouts. Additionally, she has produced two of the three sub 1.00 ERA single-season marks in conference history.
Joining Soultz on the first team are catcher Rachel Gill, outfielder Carolyn Bartlett and designated player Emma Minx.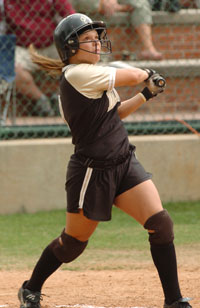 Gill (left), a second team all-America selection, led DePauw and ranked sixth in the SCAC with a .408 batting average. She ranked third in the SCAC with 36 runs scored and 41 runs batted in, fifth with 51 hits, third with 11 sacrifice hits and first with six sacrifice flies.
She committed just one error behind the plate in 334 chances for a .997 fielding percentage. Gill was the 2007 SCAC Player of the Year and has earned all-region and all-conference honors all three years.
Bartlett, the 2006 SCAC Player of the Year, hit .346 on the season and played an errorless centerfield. She ranked fifth in the conference with 33 RBI and was an all-region selection in 2006. Minx batted .350, drove in 27 runs and was second in the SCAC with four triples in her rookie campaign.
First baseman Ashlee Anton along with outfielders Chelsy Patterson and Kaitlyn Davitt were each second team choices, while third baseman Kelly Schwerzler earned honorable mention.
Anton, a third team all-region player, set the DePauw single-season record with six home runs and committed just two errors on the season for a .992 fielding percentage. She hit .323 with a .540 slugging percentage which ranked eighth in the conference. Her 42 RBI were the second most in the SCAC.
Patterson batted .297, led the conference with 24 walks and was second with 22 stolen bases. Her 36 runs scored were third in the SCAC. The DePauw all-time stolen base leader, Patterson is a three-time all-conference player and earned all-region distinction in 2007.
Davitt was named to the all-Central Region third team this year and batted .320 while playing errorless left field. She scored 33 runs and was second in the conference with 14 sacrifice bunts and four sacrifice flies.
Schwerzler, a third team all-Central Region selection, hit .314 for the year and committed just five errors at third base for a .968 fielding percentage. She scored 33 runs on the year.
The Tigers won a school-record 40 games this year, including 37 straight, and advanced to the NCAA Division III first-round championship game before losing to eventual national runner-up Wisconsin-Whitewater.
Back