DePauw Softball Team Earns Spot in NCAA Division III Championship
May 10, 2010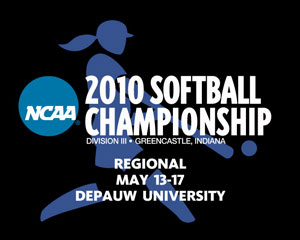 May 10, 2010, Greencastle, Ind. — With its 35-6 overall record, 13th-ranked DePauw earned an at-large spot in the 60-team NCAA Division III Softball Championship field.
The Tigers are seeded second in the Greencastle, Indiana Regional and will open tournament play on Thursday against seventh-seeded Denison (30-15).
The other matchups in the regional include #1 seed Ohio Northern (37-5) vs. #8 seed Thomas More (22-18); #5 seed Trine (26-13) vs. #4 seed North Central (31-12) and #3 seed Washington-St. Louis (34-9) vs. #6 seed Transylvania (34-9).
Full details will be posted on the regional site.
Back