DePauw Wins Wabash Invitational
November 22, 2008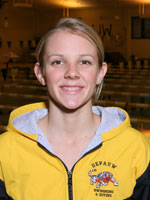 November 22, 2008, Crawfordsville, Ind. -The Tigers totaled 866.5 points and captured the team title at Wabash's Patrick Woehnker Invitational. Wheaton was second with 794 points. The win was DePauw's first ever at the Wabash Invitational.
Amanda Stier (pictured) won three events as she broke her own pool record in the 200-yard butterfly in 2:10.91 and also took firsts in the 50 freestyle in 25.22 seconds and the 100 fly in 59.93 seconds.
Catie Baker won the 100 breaststroke in a pool record 1:09.05 and also took first in the 400 individual medley in 4:45.08. Catie King won one-meter diving with a score of 171.55.
DePauw's 200 medley relay of Lindsay Riggs, Baker, Stier and Katie Massey won in 1:51.54.
The Tigers return to action when they host the DePauw Invitational on December 5-6.
Licensed to Depauw University                             HY-TEK's Meet Manager
                      Wabash College Swimming and Diving                       
                         Patrick Woehnker Invitational                         
                                    Results                                    
 
Event 1  Women 800 Yard Freestyle Relay
===============================================================================
    School                                                        Finals        
===============================================================================
  1 Transylvania University  'A'                                8:20.76  
     1) Ali Cahill FR                   2) Christina Collins FR           
     3) Teresa Champa FR                4) Clare Grosser JR               
  2 Transylvania University  'B'                                8:26.39  
     1) Neely Grubbs FR                 2) Kasey Toy JR                   
     3) Sammy Washburn SO               4) Annie Wilson JR                
  3 DePauw University  'A'                                      8:51.96  
     1) Lindsey Baumann 12              2) Janet Cox 09                   
     3) Katie Morrison 12               4) Callie Boehme 11               
 
Event 3  Women 1650 Yard Freestyle
===============================================================================
    Name                    Year School                           Finals        
===============================================================================
  1 Lauren A Jurgens          FR WETN-IL                       17:48.80  
  2 Callie Boehme             11 DPU                           18:08.16  
  3 Katie Trella              SO RHIT-IN                       18:59.23  
  4 Katie Morrison            12 DPU                           19:02.90  
  5 Lindsey Baumann           12 DPU                           19:05.12  
  6 Kasey Toy                 JR Pioneers                      19:07.84  
  7 Deborah Aleksa            JR RHIT-IN                       19:20.71  
  8 Sammy Washburn            SO Pioneers                      19:44.75  
  9 Caitlin Kohli             SO RHIT-IN                       19:47.01  
 10 Megan Cook                JR WETN-IL                       20:05.79  
 11 Janet Cox                 09 DPU                           20:47.99  
 -- Eva Cavadini              FR Saint Mary's                 X18:40.59  
 -- Anna Frantz               SO Saint Mary's                 X23:49.84  
 
Event 5  Women 1 mtr Diving
===============================================================================
    Name                    Year School                           Finals        
===============================================================================
  1 Catie King                12 DPU                             171.55  
  2 Lissa Lykins              SR Pioneers                        165.10  
  3 Shvawn Christensen        12 DPU                             160.15  
  4 Betsy Kanis               SR Pioneers                        152.90  
  5 Heather Stephens          SO RHIT-IN                         148.70  
 -- Molly McGonigal           12 DPU                                 DQ  
 -- Kristy Mullett            FR Pioneers                            DQ  
 -- Brianna Nunn              FR Pioneers                            DQ  
 
Event 7  Women 3 mtr Diving
===============================================================================
    Name                    Year School                           Finals        
===============================================================================
  1 Lissa Lykins              SR Pioneers                        199.45  
  2 Shvawn Christensen        12 DPU                             157.75  
  3 Betsy Kanis               SR Pioneers                        151.10  
 -- Catie King                12 DPU                                 DQ  
 -- Molly McGonigal           12 DPU                                 DQ  
 -- Brianna Nunn              FR Pioneers                            DQ  
 -- Kristy Mullett            FR Pioneers                            DQ  
 
Event 9  Women 200 Yard Medley Relay
===============================================================================
    School                                                        Finals        
===============================================================================
  1 DePauw University  'A'                                      1:51.54  
     1) Lindsay Riggs 10                2) Catie Baker 12                 
     3) Amanda M Stier 09               4) Katie Massey 11                
  2 Wheaton College-IL  'B'                                     1:54.58  
     1) Moire T Yue FR                  2) Liz S Hartman SO               
     3) Taylor H Clarkson JR            4) Lauren A Jurgens FR            
  3 Wheaton College-IL  'A'                                     1:54.81  
     1) Noel N Hoffer FR                2) Renee M Shear SR               
     3) Heather F Crockett FR           4) Bethany D Jacobs JR            
  4 Transylvania University  'A'                                1:56.67  
     1) Maggie Davenport JR             2) Kaitlyn Reighley FR            
     3) Sarah Larson FR                 4) Clare Grosser JR               
  5 DePauw University  'B'                                      1:59.29  
     1) Mallory Buth 12                 2) Gina Zerbini 12                
     3) Danielle Johnson 10             4) Rachel Wheaton 12              
  6 Transylvania University  'B'                                1:59.70  
     1) Ali Cahill FR                   2) Neely Grubbs FR                
     3) Monica Hagan SR                 4) Christina Collins FR           
  7 DePauw University  'C'                                     x2:02.51  
     1) Taryn Francissen 12             2) Joan Bemendefer 12             
     3) Lindsey Baumann 12              4) Elizabeth Medlock 11           
  8 Wheaton College-IL  'C'                                    x2:02.77  
     1) Sloan C Skinner JR              2) Sarah C Dolejs FR              
     3) Leah Loefstedt SO               4) Jessica A McGee FR             
  9 Transylvania University  'C'                               x2:03.12  
     1) Charlotte Alexander FR          2) Annie Wilson JR                
     3) Kasey Toy JR                    4) Claire Dorris SO               
 10 Wheaton College-IL  'D'                                    x2:04.14  
     1) Jillian M Morris SO             2) Kelsey R Craggett FR           
     3) Megan Cook JR                   4) Caitlin E Van Eerden JR        
 11 Rose-Hulman Institute-IN  'A'                               2:08.34  
     1) Stephanie Hance JR              2) Deborah Aleksa JR              
     3) Rachelle Cobb SO                4) Katie Trella SO                
 -- Saint Mary's College  'A'                                        DQ  
     1) Jackie Corey JR                 2) Mallory Kimmel FR              
     3) Eva Cavadini FR                 4) Anna Frantz SO                 
 
Event 11  Women 400 Yard IM
===============================================================================
    Name                    Year School                           Finals        
===============================================================================
  1 Catie Baker               12 DPU                            4:45.08  
  2 Sloan C Skinner           JR WETN-IL                        4:52.14  
  3 Callie Boehme             11 DPU                            4:52.35  
  4 Sally Tabler              11 DPU                            4:53.85  
  5 Teresa Champa             FR Pioneers                       4:54.85  
  6 Annie Wilson              JR Pioneers                       4:55.37  
  7 Renee M Shear             SR WETN-IL                        4:57.93  
  8 Deborah Aleksa            JR RHIT-IN                        5:07.09  
  9 Megan Cook                JR WETN-IL                        5:14.19  
 10 Janet Cox                 09 DPU                            5:27.00  
 -- Eva Cavadini              FR Saint Mary's                  X5:01.76  
 
Event 13  Women 50 Yard Freestyle
===============================================================================
    Name                    Year School                           Finals        
===============================================================================
  1 Amanda M Stier            09 DPU                              25.22  
  2 Katie Massey              11 DPU                              25.41  
  3 Clare Grosser             JR Pioneers                         25.68  
  4 Moire T Yue               FR WETN-IL                          25.74  
  5 Heather F Crockett        FR WETN-IL                          26.10  
  5 Bethany D Jacobs          JR WETN-IL                          26.10  
  7 Ali Cahill                FR Pioneers                         26.23  
  8 Rachel Wheaton            12 DPU                              26.47  
  9 Christina Collins         FR Pioneers                         26.59  
 10 Sarah Larson              FR Pioneers                         26.61  
 11 Taylor H Clarkson         JR WETN-IL                          26.68  
 12 Charlotte Alexander       FR Pioneers                         27.70  
 13 Rachelle Cobb             SO RHIT-IN                          28.35  
 14 Joan Bemendefer           12 DPU                              28.38  
 15 Heather Wiest             SO RHIT-IN                          28.75  
 16 Taryn Francissen          12 DPU                              29.74  
 17 Jessica A McGee           FR WETN-IL                          30.58  
 18 Sarah Nejfelt             JR RHIT-IN                          32.77  
 
Event 15  Women 200 Yard Freestyle
===============================================================================
    Name                    Year School                           Finals        
===============================================================================
  1 Lauren A Jurgens          FR WETN-IL                        1:58.07  
  2 Elizabeth Medlock         11 DPU                            2:01.23  
  3 Ashley N Matthiesen       SR WETN-IL                        2:03.44  
  4 Katie Morrison            12 DPU                            2:03.72  
  5 Teresa Champa             FR Pioneers                       2:04.11  
  6 Rachel Wheaton            12 DPU                            2:04.57  
  7 Neely Grubbs              FR Pioneers                       2:04.73  
  8 Ali Cahill                FR Pioneers                       2:05.12  
  9 Christina Collins         FR Pioneers                       2:05.29  
 10 Leah Loefstedt            SO WETN-IL                        2:05.47  
 11 Clare Grosser             JR Pioneers                       2:06.10  
 12 Sarah C Dolejs            FR WETN-IL                        2:06.17  
 13 Mallory Buth              12 DPU                            2:06.20  
 14 Cassie Enix               10 DPU                            2:06.78  
 15 Emma G Higgins            SO WETN-IL                        2:06.84  
 16 Kasey Toy                 JR Pioneers                       2:08.03  
 17 Katie Trella              SO RHIT-IN                        2:09.05  
 18 Sammy Washburn            SO Pioneers                       2:09.96  
 19 Claire Dorris             SO Pioneers                       2:11.55  
 20 Caitlin Kohli             SO RHIT-IN                        2:11.67  
 21 Anna Frantz               SO Saint Mary's                   2:38.69  
 
Event 17  Women 100 Yard Backstroke
===============================================================================
    Name                    Year School                           Finals        
===============================================================================
  1 Moire T Yue               FR WETN-IL                        1:01.83  
  2 Noel N Hoffer             FR WETN-IL                        1:02.51  
  3 Jillian M Morris          SO WETN-IL                        1:02.72  
  4 Maggie Davenport          JR Pioneers                       1:04.15  
  5 Lindsay Riggs             10 DPU                            1:05.00  
  6 Sloan C Skinner           JR WETN-IL                        1:05.94  
  7 Danielle Johnson          10 DPU                            1:06.43  
  8 Cassie Enix               10 DPU                            1:07.01  
  9 Taryn Francissen          12 DPU                            1:07.44  
 10 Mallory Buth              12 DPU                            1:07.65  
 11 Stephanie Hance           JR RHIT-IN                        1:07.69  
 12 Claire McVey              12 DPU                            1:10.22  
 13 Charlotte Alexander       FR Pioneers                       1:11.68  
 14 Mallory Kimmel            FR Saint Mary's                   1:19.84  
 15 Sarah Nejfelt             JR RHIT-IN                        1:21.09  
 
Event 19  Women 100 Yard Breaststroke
===============================================================================
    Name                    Year School                           Finals        
===============================================================================
  1 Catie Baker               12 DPU                            1:09.05  
  2 Liz S Hartman             SO WETN-IL                        1:09.78  
  3 Kaitlyn Reighley          FR Pioneers                       1:12.55  
  4 Gina Zerbini              12 DPU                            1:13.20  
  5 Caroline C Hannema        SO WETN-IL                        1:13.27  
  6 Renee M Shear             SR WETN-IL                        1:13.32  
  7 Kelsey R Craggett         FR WETN-IL                        1:13.57  
  8 Bethany D Jacobs          JR WETN-IL                        1:13.77  
  9 Neely Grubbs              FR Pioneers                       1:15.32  
 10 Joan Bemendefer           12 DPU                            1:16.60  
 11 Maggie Davenport          JR Pioneers                       1:19.59  
 12 Mallory Kimmel            FR Saint Mary's                   1:23.04  
 
Event 21  Women 200 Yard Butterfly
===============================================================================
    Name                    Year School                           Finals        
===============================================================================
  1 Amanda M Stier            09 DPU                            2:10.91  
  2 Monica Hagan              SR Pioneers                       2:16.34  
  3 Sally Tabler              11 DPU                            2:20.00  
  4 Annie Wilson              JR Pioneers                       2:22.42  
  5 Jillian M Morris          SO WETN-IL                        2:24.83  
  6 Lindsey Baumann           12 DPU                            2:26.31  
  7 Leah Loefstedt            SO WETN-IL                        2:29.17  
  8 Claire McVey              12 DPU                            2:31.56  
  9 Eva Cavadini              FR Saint Mary's                   2:32.32  
 10 Brittany Van Remortel     SO WETN-IL                        2:37.45  
 11 Claire Dorris             SO Pioneers                       2:38.30  
 12 Jessica A McGee           FR WETN-IL                        2:40.14  
 13 Janet Cox                 09 DPU                            2:42.56  
 
Event 23  Women 100 Yard Freestyle
===============================================================================
    Name                    Year School                           Finals        
===============================================================================
  1 Heather F Crockett        FR WETN-IL                          56.79  
  2 Ali Cahill                FR Pioneers                         56.80  
  3 Bethany D Jacobs          JR WETN-IL                          56.85  
  4 Clare Grosser             JR Pioneers                         57.05  
  5 Elizabeth Medlock         11 DPU                              57.18  
  6 Rachel Wheaton            12 DPU                              57.19  
  7 Katie Massey              11 DPU                              57.47  
  8 Sarah Larson              FR Pioneers                         57.85  
  9 Cassie Enix               10 DPU                              57.98  
 10 Christina Collins         FR Pioneers                         58.00  
 11 Emma G Higgins            SO WETN-IL                          58.24  
 12 Taylor H Clarkson         JR WETN-IL                          59.01  
 13 Rachelle Cobb             SO RHIT-IN                        1:02.30  
 14 Heather Wiest             SO RHIT-IN                        1:02.51  
 
Event 25  Women 200 Yard Backstroke
===============================================================================
    Name                    Year School                           Finals        
===============================================================================
  1 Jillian M Morris          SO WETN-IL                        2:13.36  
  2 Noel N Hoffer             FR WETN-IL                        2:15.00  
  3 Ashley N Matthiesen       SR WETN-IL                        2:17.73  
  4 Callie Boehme             11 DPU                            2:22.00  
  5 Maggie Davenport          JR Pioneers                       2:22.69  
  5 Taryn Francissen          12 DPU                            2:22.69  
  7 Sloan C Skinner           JR WETN-IL                        2:23.94  
  8 Danielle Johnson          10 DPU                            2:25.20  
  9 Elizabeth Medlock         11 DPU                            2:28.99  
 10 Caitlin E Van Eerden      JR WETN-IL                        2:31.92  
 11 Charlotte Alexander       FR Pioneers                       2:32.80  
 12 Sarah Nejfelt             JR RHIT-IN                        2:50.18  
 
Event 27  Women 200 Yard Breaststroke
===============================================================================
    Name                    Year School                           Finals        
===============================================================================
  1 Liz S Hartman             SO WETN-IL                        2:27.58  
  2 Catie Baker               12 DPU                            2:27.76  
  3 Caroline C Hannema        SO WETN-IL                        2:35.18  
  4 Renee M Shear             SR WETN-IL                        2:35.54  
  5 Sarah C Dolejs            FR WETN-IL                        2:36.68  
  6 Kelsey R Craggett         FR WETN-IL                        2:39.45  
  7 Kaitlyn Reighley          FR Pioneers                       2:40.84  
  8 Gina Zerbini              12 DPU                            2:41.33  
  9 Neely Grubbs              FR Pioneers                       2:45.06  
 10 Megan Cook                JR WETN-IL                        2:45.63  
 11 Joan Bemendefer           12 DPU                            2:45.91  
 12 Mallory Kimmel            FR Saint Mary's                   2:58.60  
 
Event 29  Women 500 Yard Freestyle
===============================================================================
    Name                    Year School                           Finals        
===============================================================================
  1 Lauren A Jurgens          FR WETN-IL                        5:14.93  
  2 Eva Cavadini              FR Saint Mary's                   5:27.85  
  3 Katie Morrison            12 DPU                            5:28.39  
  4 Teresa Champa             FR Pioneers                       5:32.50  
  5 Katie Trella              SO RHIT-IN                        5:34.38  
  6 Ashley N Matthiesen       SR WETN-IL                        5:34.42  
  7 Lindsey Baumann           12 DPU                            5:35.02  
  8 Kasey Toy                 JR Pioneers                       5:35.71  
  9 Deborah Aleksa            JR RHIT-IN                        5:44.40  
 10 Sammy Washburn            SO Pioneers                       5:46.33  
 11 Caitlin Kohli             SO RHIT-IN                        5:51.69  
 12 Claire Dorris             SO Pioneers                       5:51.90  
 13 Claire McVey              12 DPU                            5:56.97  
 14 Brittany Van Remortel     SO WETN-IL                        6:06.65  
 15 Anna Frantz               SO Saint Mary's                   6:55.81  
 
Event 31  Women 100 Yard Butterfly
===============================================================================
    Name                    Year School                           Finals        
===============================================================================
  1 Amanda M Stier            09 DPU                              59.93  
  2 Heather F Crockett        FR WETN-IL                        1:00.57  
  3 Monica Hagan              SR Pioneers                       1:02.11  
  4 Sarah Larson              FR Pioneers                       1:04.63  
  5 Lindsay Riggs             10 DPU                            1:04.68  
  6 Kaitlyn Reighley          FR Pioneers                       1:04.90  
  7 Danielle Johnson          10 DPU                            1:05.11  
  8 Mallory Buth              12 DPU                            1:05.13  
  8 Katie Massey              11 DPU                            1:05.13  
 10 Leah Loefstedt            SO WETN-IL                        1:05.34  
 11 Taylor H Clarkson         JR WETN-IL                        1:05.87  
 12 Stephanie Hance           JR RHIT-IN                        1:07.21  
 13 Brittany Van Remortel     SO WETN-IL                        1:09.79  
 14 Heather Wiest             SO RHIT-IN                        1:11.03  
 15 Jessica A McGee           FR WETN-IL                        1:12.24  
 16 Rachelle Cobb             SO RHIT-IN                        1:15.00  
 
Event 33  Women 200 Yard IM
===============================================================================
    Name                    Year School                           Finals        
===============================================================================
  1 Kelsey R Craggett         FR WETN-IL                        2:17.99  
  2 Annie Wilson              JR Pioneers                       2:18.66  
  3 Sally Tabler              11 DPU                            2:21.26  
  4 Caroline C Hannema        SO WETN-IL                        2:21.70  
  5 Lindsay Riggs             10 DPU                            2:23.93  
  6 Gina Zerbini              12 DPU                            2:24.84  
  7 Noel N Hoffer             FR WETN-IL                        2:25.70  
  8 Sarah C Dolejs            FR WETN-IL                        2:28.11  
 
Event 35  Women 200 Yard Freestyle Relay
===============================================================================
    School                                                        Finals        
===============================================================================
  1 Transylvania University  'A'                                1:40.99  
     1) Ali Cahill FR                   2) Sarah Larson FR                
     3) Christina Collins FR            4) Clare Grosser JR               
  2 DePauw University  'A'                                      1:41.59  
     1) Elizabeth Medlock 11            2) Rachel Wheaton 12              
     3) Amanda M Stier 09               4) Katie Massey 11                
  3 Wheaton College-IL  'A'                                     1:41.74  
     1) Moire T Yue FR                  2) Ashley N Matthiesen SR         
     3) Taylor H Clarkson JR            4) Leah Loefstedt SO              
  4 DePauw University  'B'                                      1:46.05  
     1) Cassie Enix 10                  2) Catie Baker 12                 
     3) Katie Morrison 12               4) Sally Tabler 11                
  5 Wheaton College-IL  'B'                                     1:47.81  
     1) Lauren A Jurgens FR             2) Emma G Higgins SO              
     3) Kristina L Sedjo SR             4) Sarah C Dolejs FR              
  6 Transylvania University  'B'                                1:48.50  
     1) Teresa Champa FR                2) Neely Grubbs FR                
     3) Kasey Toy JR                    4) Annie Wilson JR                
  7 DePauw University  'C'                                     x1:49.30  
     1) Lindsay Riggs 10                2) Callie Boehme 11               
     3) Mallory Buth 12                 4) Danielle Johnson 10            
  8 Transylvania University  'C'                               x1:50.11  
     1) Charlotte Alexander FR          2) Claire Dorris SO               
     3) Sammy Washburn SO               4) Maggie Davenport JR            
  9 DePauw University  'D'                                     x1:51.25  
     1) Lindsey Baumann 12              2) Joan Bemendefer 12             
     3) Claire McVey 12                 4) Gina Zerbini 12                
 10 Rose-Hulman Institute-IN  'A'                               1:53.44  
     1) Rachelle Cobb SO                2) Heather Wiest SO               
     3) Stephanie Hance JR              4) Katie Trella SO                
 11 Wheaton College-IL  'C'                                    x1:55.38  
     1) Kelsey R Craggett FR            2) Caitlin E Van Eerden JR        
     3) Brittany Van Remortel SO        4) Jessica A McGee FR             
 


Back