Stier Named SCAC Swimmer of the Week
December 12, 2008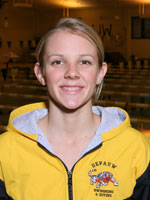 December 12, 2008, Greencastle, Ind. — DePauw senior Amanda Stier has been selected as the Southern Collegiate Athletic Conference Women's Swimmer of the Week for her performances at last weekend's DePauw Invitational.
Stier won three events and shared high-point honors with teammate Callie Boehme. She won the 200-yard butterfly in a meet and pool-record time of 2:06.14. The time was also good for an NCAA B cut time.
She also set the school record in the 200 freestyle in 1:56.39 before establishing another school record in the 100 fly in 58.25 second for both a meet & pool record. The time was also an NCAA B cut time as well.
Stier then topped off her week by swimming legs on both the winning 200 and winning 400 medley relays.
The honor was Stier's third already this season.
Back