Top Three Seeds Advance in ITA Division III Indoor Championship
February 27, 2010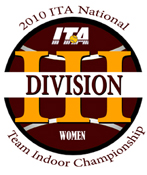 February 27, 2010, Greencastle, Ind. — The top three seeds in the eight-team Intercollegiate Tennis Association Division III Women's Team Indoor Championship advanced to Saturday's semifinals after opening-round wins.
Top-seed and third-ranked Emory opened the day with a 6-3 win over eighth-seed and 13th-ranked Gustavus Adolphus, while second-seed and fourth-ranked Chicago topped seventh-seed and 11th-ranked DePauw by an 8-1 score.
Third-seeded Washington and Lee blanked sixth-seed and 10th-ranked Johns Hopkins and fifth-seed and eighth-ranked Denison defeated fourth-seed and sixth-ranked defending ITA Indoor champion Carnegie Mellon, 8-1.
Saturday's 8:30 a.m. consolation semifinal matches pit Gustavus Adolphus against Carnegie Mellon and DePauw against Johns Hopkins. The 2 p.m. semifinal matches feature Emory against Denison and Chicago versus Washington & Lee. The winners of the 8:30 a.m. matches square off at 7:30 p.m. for fifth place, while the morning losers face each other with seventh place at stake.
Follow DePauw Athletics on Twitter | Become a Fan of DePauw Athletics on Facebook
Back