Tiger Volleyball Team Wins Capital Tournament; Off to Best Start in 11 Years
September 5, 2009
BOX SCORES: Muskingum | Penn State-Altoona | St. Mary's | Capital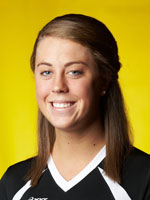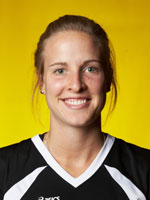 September 5, 2009, Columbus, Ohio — DePauw blanked host Capital 3-0 (25-19, 25-23, 25-13) in the championship game of the Capital University Volleyball Opener and improved to 5-0 for its best start since 1998. Katie Petrovich (left) and Katey Larson (right) each earned spots on the all-tournament team.
Larson paced the Tigers with 10 kills against Capital, while Madison Hoenig had four service aces and Kate Carrico totaled 10 digs. Ali Smith paced the squad with 26 assists and Paige Thompson had five blocks.
In this morning's match, the Tigers earned a spot in the title match after topping St. Mary's 3-0 (25-17, 25-18, 25-17). Petrovich led with eight kills, while Smith had 29 assists and Hoenig led with 13 digs. Kristen Chynoweth and Kylee Lehrman led with two aces apiece and Chynoweth added six blocks.
DePauw topped Muskingum in Friday's first match by a 3-0 (25-18, 25-23, 25-17) score and then defeated Penn State-Altoona 3-1 (25-23, 25-17, 19-25, 25-19).
In the Muskingum. Against Muskingum, Petrovich paced the squad with 12 kills, while Smith led with 39 assists. Hoenig totaled 15 digs and Chynoweth added seven blocks. Chynoweth led with nine kills and seven blocks against Penn State-Altoona with Smith adding 40 assists. Lehrman, Smith and Carrico each had two aces, while Sajel Tremblay paced the team with 14 digs.
The Tigers compete in the Rose-Hulman Invitational on September 11-12
Back