Gifts in Action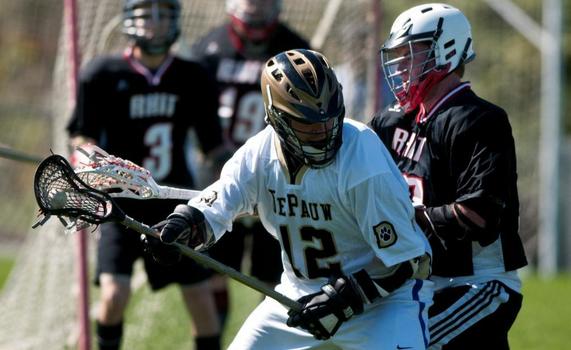 Alumni help start lacrosse program at DePauw
"Maryland is the heartland of lacrosse," declares Joe Gregory Hollingsworth '71. Having lived inside the Beltway since the day after his graduation from DePauw, Hollingsworth and his wife, Nancy Bartlett Hollingsworth '72, have been heavily influenced by the game. All of their children played lacrosse in high school, and two went on to play at the collegiate level as well. Their daughter, Brooke Hollingsworth '10, played lacrosse in high school and then played field hockey at DePauw.
Seeing the importance of lacrosse as a rising sport in America's best high schools--and as a major component of athletic programs in DePauw's new conference, the North Coast Athletic Conference--the Hollingsworths wanted to help DePauw institute a varsity lacrosse program of its own. "I've known a lot of students who would have considered DePauw if we had a dynamite Division III lacrosse team," Hollingsworth explained. He pointed to Kenyon, Denison and Ohio Wesleyan as institutions that he knows have attracted excellent students in part to play lacrosse.
The Hollingsworths are not alone in supporting lacrosse at DePauw. Former DePauw football player and member of the Board of Trustees Steven L. Trulaske '79 provided a $1 million gift to open the door to a new lacrosse program. "With the addition of lacrosse," says President Brian W. Casey, "DePauw will compete with a full roster of sports within our new conference and will be able to recruit more effectively from schools at which lacrosse is a popular sport.:
The Hollingsworths provided a major leadership gift toward the project, as did former chair of the Board of Trustees James K. Baker '53, and his wife, Beverly B. Baker '59, whose three grandchildren all play lacrosse. Due to such generosity and vision, men's and women's lacrosse teams will begin competing during the 2012-13 academic year.
A lacrosse club already exists on campus, and there is a definite interest in the game among many DePauw students. In fact, Hollingsworth's own college roommate had been a lacrosse player. "The first time I saw a lacrosse stick was at DePauw," he points out. "My roommate had played it in high school and brought his gear with him to college."
"I'm really encouraged by the direction of DePauw right now," Hollingsworth notes. "I'm impressed by the leadership of Brian Casey. He has a sense of what matters most going ahead and how we can attract the best possible students to DePauw." In the future, many of those promising students will come to DePauw to play and enjoy lacrosse. And in no small part, they will have the above donors to thank for it.