George R. Grose, 1912-1924
DePauw's Eleventh President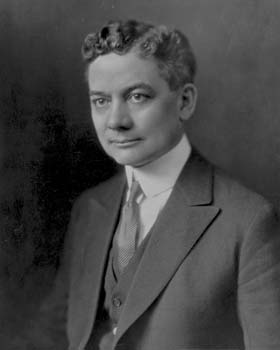 In 1912 the trustees once again chose for the DePauw presidency a graduate of both Ohio Wesleyan and the Boston University School of Theology. He was George R. Grose, minister of a Methodist church in Baltimore and, at 43, six years older than either of his two predecessors at the time of their election to the presidency. His 12-year term as president was to bring stability and financial strength to the university during a period of expansive growth.
He faced serious challenges immediately upon his inauguration. His first annual report in 1913 mentioned the need for an endowment for faculty chairs, an organ for Meharry chapel, improvement of the physical plant, including overhaul of the campus heating and lighting system, and a new gymnasium to replace the entirely unsuitable facilities in West College formerly used as an armory for the military department. The university basketball team, for example, had resorted to using the second floor of the Greencastle Opera House for both practice sessions and home games. In 1913 the intercollegiate basketball schedule was actually called off for lack of an adequate playing floor. Also high on the list of university needs were an administration building, a student union, and another women's dormitory. In the meantime President Grose moved in the direction of partial retrenchment by deciding to close the declining Academy in 1914 in order to permit the university to concentrate its resources on college-level work.
In 1916 the board of trustees launched a new financial drive to raise $1 million, broken down into $600,000 for endowment and $400,000 for buildings. The campaign, led by Grose with the assistance of Cyrus U. Wade and another Methodist minister, Demetrios Tillotson, as field representatives, was hugely successful. Once more the General Education Board came to the aid of the university, contributing $150,000 toward the endowment fund on the condition that the campaign goal was met. At the end of 1916, $602,000 was added to the endowment including $250,000 for five faculty chairs.
President Grose spent the 1921-22 academic year in China on a special leave granted him for the purpose of gathering materials for a biography of James Bashford, the well-known Methodist bishop in that country. He published his findings in book form in 1922. Upon Grose's return to campus he devoted most of his remaining tenure as president to the successful prosecution of a million-dollar endowment campaign. Finally, in 1924 he was himself elected a bishop of the Methodist Episcopal Church and left Greencastle to take up his new post in China. He later returned to the United States to become the editor of a religious periodical in California. A final contribution to DePauw University was a short biographical sketch of Edward Rector published in 1928. Grose died in 1953.