Russell J. Humbert, 1951-1962
DePauw's Fifteenth President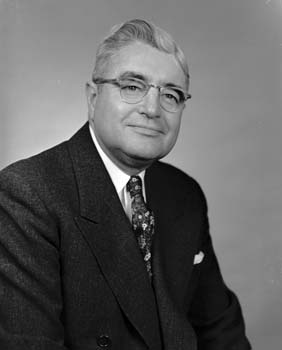 One of Russell Humbert's first major steps was to initiate the Greater DePauw Program, a 10-to-15 year plan to raise $10 million, about half for new buildings and half for endowment. Marts and Lundy, a consulting firm of which Humbert's father-in-law, George Lundy, was vice president, surveyed the needs of the university and possible sources of financial support. Upon the firm's recommendation the first phase of the program was set in motion, a campaign to raise $1 million for a new library and $500,000 for other purposes, including faculty salaries. By 1954 the campaign had collected $1,671,000 including a challenge grant of $150,000 from the Lilly Endowment. Approximately one-third of the alumni and former students solicited made contributions.
A building committee chaired by the librarian, Vera S. Cooper, began drawing up plans for the construction of a large modern library on the site of the former West College. Two specialists in library architecture were called in to assist in planning a facility meeting both present and future needs of the university. Named for distinguished alumnus and trustee Roy O. West and opened for use in 1956, the building provided sufficient space for the first time to house the university's library holdings and technical services survey by Marts and Lundy. At the urging of President Humbert the goal was raised to $2 million. Led by Humbert himself, Norman Knights, the newly named director of public relations and financial promotion, and Robert Crouch, the secretary of alumni affairs, with Marts and Lundy, the campaign raised slightly more than the targeted amount by June 1961.
In academic matters President Humbert proceeded cautiously and tended to rely heavily on the advice and guidance of senior faculty and administrative staff. To replace Dean Norris, who resigned in 1952 to accept the presidency of MacMurray College, he chose Robert Farber from the dean of student's office. Farber, who spent most of his adult life in various administrative posts at DePauw, was to serve as academic dean longer than anyone before or since.
In 1954, when a bookstore was added to the Student Union Building, Samuel T. Hanna was persuaded to become its first manager. The jovial "Sam" Hanna, a DePauw graduate who had operated his own bookstore downtown for many years, made the university's entrance into the book business a success from the start.
Worth M. Tippy, a retired Methodist minister who had graduated from DePauw in 1891, was responsible for establishing the Archives of DePauw University and Indiana Methodism in two small rooms in the basement of the Administration Building in 1951. Tippy, who was named the first archivist, had studied archival procedures in Washington, D.C. and began collecting the large quantity of documents which are now stored in specially equipped rooms in the Roy O. West Library.