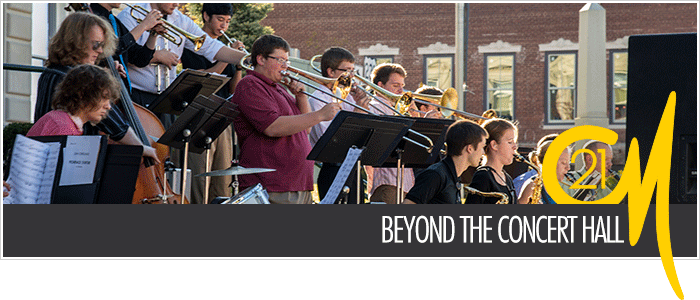 21st century audiences are embracing art music performances in radically different ways. The DePauw University School of Music is dedicated to finding new and innovative ways to capture these audiences. We believe that learning how to build and develop audiences by meeting them on their own turf is central to any 21st century musician's education. To attract these new audiences to the concert hall, our students can be found across campus and throughout the Putnam County community delivering performances that go beyond the conventional concert hall.
---
Pop-up Performances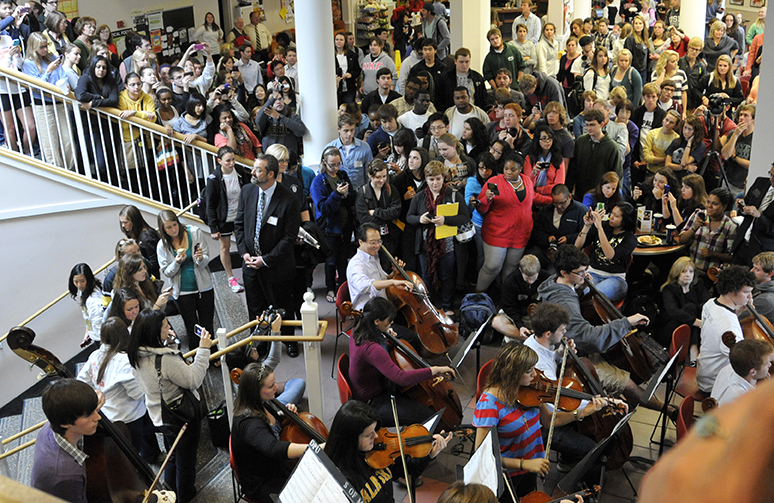 If you spend any time on the DePauw University campus, you are likely to witness an impromptu performance at any moment. "Pop-up" concerts are frequent events at DePauw as students showcase pieces from upcoming performances in an effort to generate new audiences for their work. You might also hear them performing on the lawn or in the quad as a way to bring music to faculty, staff and students in the midst of a hectic day.
DePauwPalooza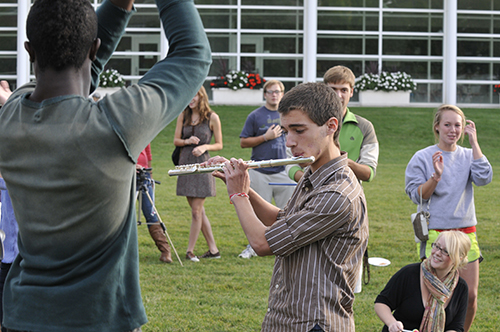 Connected to a college of liberal arts, the DePauw University School of Music is dedicated to not only developing 21st century musicians, but also 21st century audiences who find the value of music in a life well lived. For this reason, the DePauw School of Music hosts DePauwPalooza, an informal outdoor music celebration, at the start of each academic year. Held in Bowman Park and the lawn of the Green Center for the Performing Arts, DePauwPalooza exposes all DePauw students, faculty, and staff to performances by large ensembles, chamber ensembles, and performers showcasing upcoming events.
Art Music at Almost Home
The "Art Music at Almost Home" series provides community members an evening of live music and good food in one location: local restaurant, Almost Home. Patrons have the opportunity to connect with performers in an intimate and more casual setting and student performers learn how to reach audiences in new ways.
Visit the Art Music at Almost Home performance schedule.
Percussion @ Peeler
Percussion@Peeler, held in DePauw's Richard E. Peeler Art University Galleries, is a highlight of each season. Performances of contemporary music are presented – both composed and improvised – in conjunction with the current exhibition of contemporary art.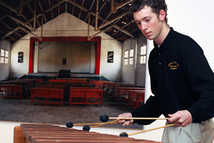 Recent collaborations have included "Transfer: Pictures and Music in a Remix Culture, How Soon is Now, PERCUSSION SANS FRONTIERES," in conjunction with the exhibit Experimental Geography, and "Percussion for a Crowded Planet: Making Do with Less," in conjunction with the exhibition Beyond Green: Toward a Sustainable Art, and Past in Reverse: Contemporary Art of East Asia.