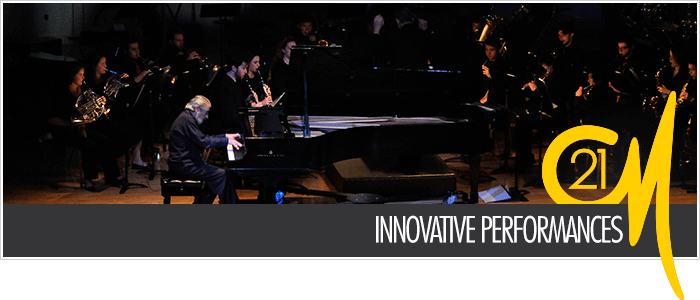 The DePauw University School of Music presents over 150 events annually, ranging from major guest artists to student recitals, and main-stage productions and performances in the concert hall to the Downtown Farmers' Market.

Innovative performance is quickly becoming the coin of the realm in the School of Music. Whether inviting the audience to sit on stage, dance or even lie down, performing without a conductor, performing with video projection, or presenting "shuffle" concerts as if heard on an iPod, the production style of DePauw ensembles is innovative and widely varied.
---
DePauw Opera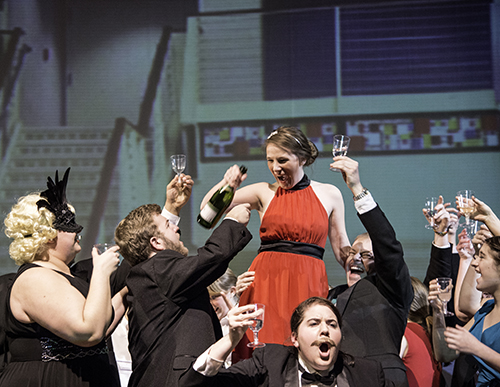 International stage director and designer Joachim Schamberger, a German-born artist known for his development and use of virtual scenic design, has produced DePauw Opera since joining the School of Music faculty in 2012. Whether staging a new or an existing text, Schamberger's work makes innovative use of projection technology to create scenes and special effects uniquely adapted to each production.
DePauw Opera's 2012 production of Benjamin Britten's Albert Herring featured multimedia projections that evolved with time of day and the dramatic action. In 2013, Strauss's Die Fledermaus was updated to take place in situ at DePauw University during the 175th anniversary celebration of the University. These projections featured iconic campus locations, including views of East College and a party set in the Great Hall of the Judson and Joyce Green Center for the Performing Arts. A production of Monteverdi's boundary-defying 17th-century opera The Coronation of Poppea, using Schamberger's virtual scenic designs, is planned for February 5-8, 2015.
Visit the DePauw University School of Music productions page.
Holiday Gala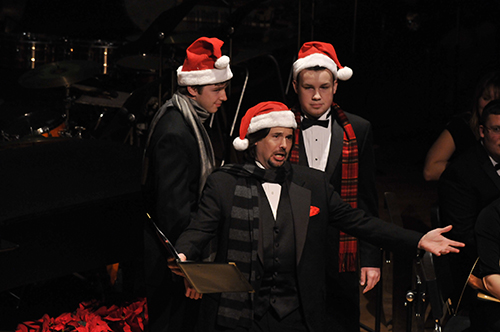 Each year the School produces a communitywide Holiday Gala, an evening of seasonal music featuring a variety of large works, chamber music, soloists, and a few surprises. In 2014, the annual gala will be presented on December 6 and 7. One of the can't-miss events of the season, the Saturday night performance includes a full-length concert. The Sunday matinee is a reduced program for families, with a visit from Santa Claus.
Read more about the Holiday Gala.

@DePauwMusic on Twitter
---
Today's concert program also includes works by Ticheli, R. Nelson, and Barber.
2 days ago
Tomorrow's band concert features Professor Danforth, principal horn of @Indy_Symphony, performing @beckelmusic's horn concerto. 3 PM Kresge.
3 days ago
Israeli cellist Yatum Baruch performs Rachmaninoff, Shostakovich & Kopytman tonight in TRH. (Fun fact: He's performed with @PerlmanOfficial)
15 days ago
RT @IntimateOpera: IOI is excited to announce our Feb. 2015 production of "Speed Dating Tonight!" Check out the website for details http://t.co/t02qIonR9U
16 days ago
Got rhythm? Join us for the percussion master class with Trio Globo in Kresge Auditorium at 1pm! #21CM
17 days ago
Grab your string instrument and your love of improvisation. Trio Globo takes us through some jazz string techniques today at 10am in Kresge!
17 days ago
Tonight! 7:30! Green Guest Artist Concert: Trio Globo with Loire! Get ready for some jazzy, groovy, worldly music. #21CM
18 days ago
Have some free time? Wanna learn some cool jazz vocal techniques from Trio Globo and Loire? Come to GCPA 1029 at 4:00 today! #21CM
19 days ago
Don't get rested yet! Trio Globo is comin to town...
20 days ago
44 years ago
44 years ago
44 years ago
44 years ago
44 years ago
44 years ago
44 years ago
44 years ago
44 years ago