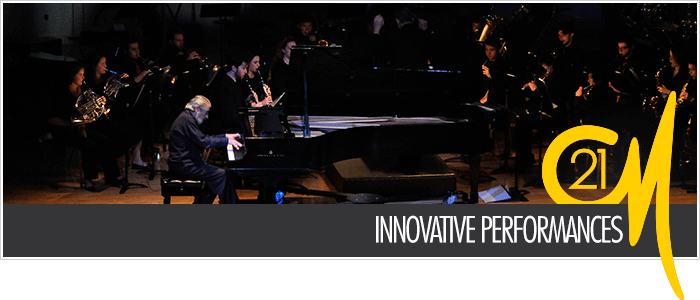 The DePauw University School of Music presents over 150 events annually, ranging from major guest artists to student recitals, and main-stage productions and performances in the concert hall to the Downtown Farmers' Market.

Innovative performance is quickly becoming the coin of the realm in the School of Music. Whether inviting the audience to sit on stage, dance or even lie down, performing without a conductor, performing with video projection, or presenting "shuffle" concerts as if heard on an iPod, the production style of DePauw ensembles is innovative and widely varied.
---
DePauw Opera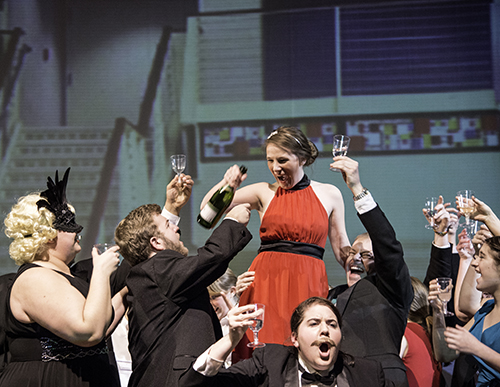 International stage director and designer Joachim Schamberger, a German-born artist known for his development and use of virtual scenic design, has produced DePauw Opera since joining the School of Music faculty in 2012. Whether staging a new or an existing text, Schamberger's work makes innovative use of projection technology to create scenes and special effects uniquely adapted to each production.
DePauw Opera's 2012 production of Benjamin Britten's Albert Herring featured multimedia projections that evolved with time of day and the dramatic action. In 2013, Strauss's Die Fledermaus was updated to take place in situ at DePauw University during the 175th anniversary celebration of the University. These projections featured iconic campus locations, including views of East College and a party set in the Great Hall of the Judson and Joyce Green Center for the Performing Arts. A production of Monteverdi's boundary-defying 17th-century opera The Coronation of Poppea, using Schamberger's virtual scenic designs, is planned for February 5-8, 2015.
Visit the DePauw University School of Music productions page.
Holiday Gala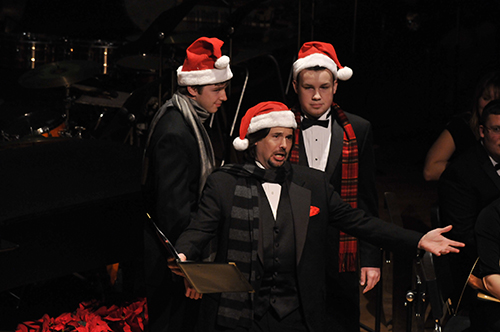 Each year the School produces a communitywide Holiday Gala, an evening of seasonal music featuring a variety of large works, chamber music, soloists, and a few surprises. In 2014, the annual gala will be presented on December 6 and 7. One of the can't-miss events of the season, the Saturday night performance includes a full-length concert. The Sunday matinee is a reduced program for families, with a visit from Santa Claus.
Read more about the Holiday Gala.

@DePauwMusic on Twitter
---
Have a restful, rejuvenating fall break! When we return, get ready for the New World. #DvorakFestival #21CM
7 days ago
Our Faculty Woodwind Quintet performs tonight at 7:30 in Thompson Recital Hall. They are bound to blow us away! #Windsx5
8 days ago
Faculty Woodwind Ensemble performs the music of Barber, Heiden, Arnold and Poulenc tonight (10/16) at 7:30PM in Thompson. #DPUFacultyQuintet
8 days ago
RT @DePauwU: Our friends over at @DePauwMusic have some neat things planned this week with their Dvorak and America Festival. http://t.co/VIQeHHIGiX
10 days ago
Join us TONIGHT at 7:30 in Kresge auditorium for the jazz ensemble's first concert of the semester under the direction of Prof Steve Snyder!
10 days ago
HURRY! A pop-up concert in the Great Hall of the GCPA will start in 5 minutes! #21CM #DvorakFestival
10 days ago
Come to the Great Hall at 11:35AM to hear the band and orchestra perform some of Dvorak's music with guest speaker Joseph Horowitz!
11 days ago
Tonight at 5:30PM, join our guest Joseph Horowitz—cultural historian—and @DePauwMusic at Prindle for a talk on cultural appropriation #21CM
11 days ago
This is your last chance to watch @DePauwMusic and Theater perform Jason Robert Brown's Tony-Award winning Parade! http://t.co/MziEYYIE84
12 days ago
44 years ago
44 years ago
44 years ago
44 years ago
44 years ago
44 years ago
44 years ago
44 years ago
44 years ago