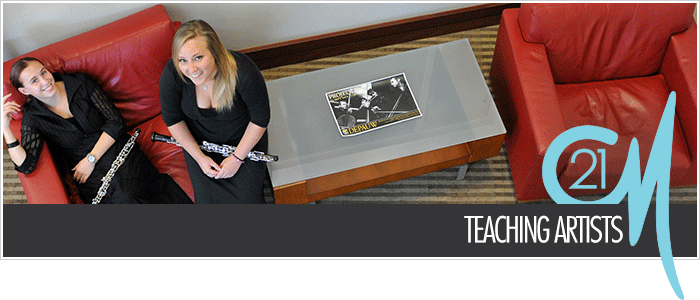 The DePauw University School of Music strives to give students relevant and applicable teaching experience. We have coupled this experience with community outreach in order to benefit not only our students, but the greater Putnam County community as well.
---
Honor Band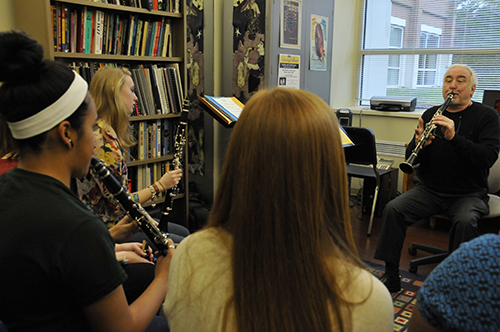 The annual Honor Band program allows high school students to learn and perform alongside School of Music students in a two-day series of masterclasses, workshops, and rehearsals. Area band directors nominate high school students for this opportunity and DePauw School of Music faculty select top DePauw students to serve as mentors and co-performers in the program. This weekend is an exciting opportunity for DePauw students to teach from within the group of young musicians, ending in a final collaborative performance. Learn more about the Honor Band.
"These students excel in their respective high school band programs. I am excited about the opportunity to work with them, and I believe they will enjoy this chance to rehearse and perform top-level wind literature alongside colleagues of theirs from other schools."
- Craig Paré, director of the DePauw University Band
Preparatory Program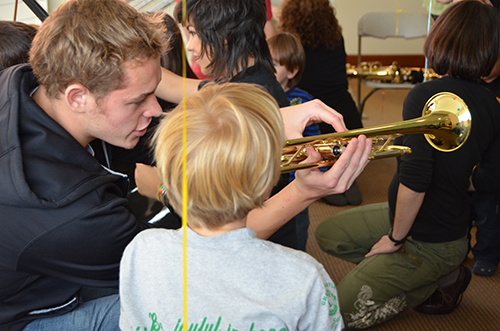 The DePauw University School of Music Preparatory Program affords School of Music students the opportunity to learn and grow as private applied music instructors and is another way in which the School of Music works to provide greater community service to area residents. This program offers public school-aged students and all interested members of the community, of any age, private music instruction from School of Music faculty and students. Instruction on instruments not available in the public schools and music for younger students and children is especially popular. Learn more about the Preparatory Program.
Greencastle Middle School Adoption
As part of its effort to positively affect Greencastle and create opportunities for students both at DePauw and in the Greencastle Schools, the DePauw University School of Music has formally adopted the Greencastle Middle School music program. DePauw students put their skills into action by assisting with the Greencastle Middle School choirs and bands in rehearsals, small group lessons, and one-on-one time with students. In 2013, the School of Music founded a middle school jazz ensemble—the only public school jazz ensemble in Putnam County—led by DePauw students under the direction of the School of Music Dean. This program is generously supported by a grant from the Putnam County Community Foundation.
"The adoption will be a win-win situation for both my students and for the DePauw students. My students will get extra help and attention that they need, and the DePauw students will get hands-on teaching and learning situations."
- Kathryn Dory, director of Greencastle Middle School music program.