Historical Timeline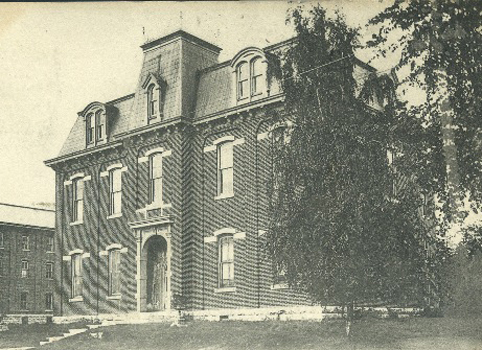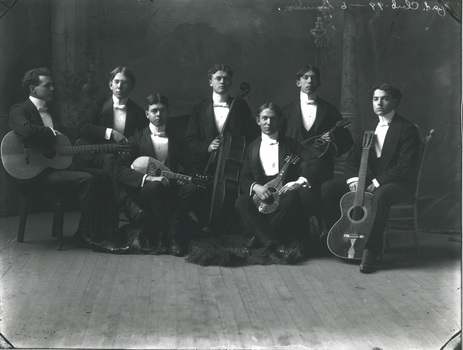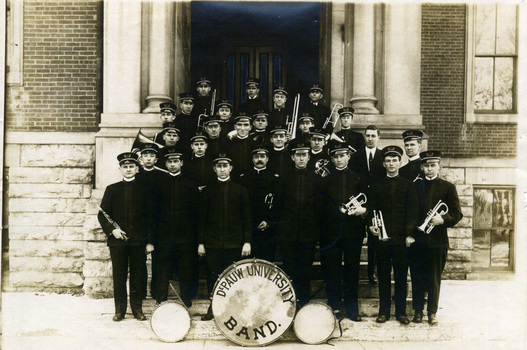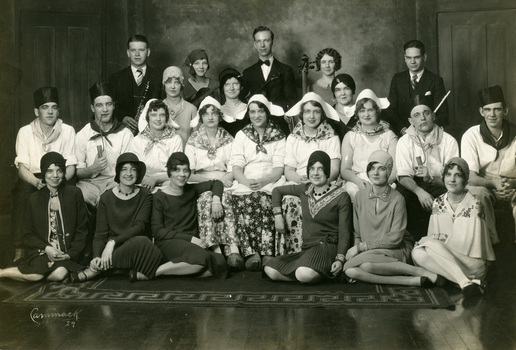 Introduction: 1881-1899
Founded in 1884, the School of Music of DePauw University is one of the first Schools of Music in the United States. Its origins date back to 1881, when five students enrolled in pianoforte and organ lessons with DePauw (then known as Indiana Asbury) graduate Minnie C. Langdon in the "Department for Musical Instruction." Now, well into its second century, the School of Music has established itself as a leader among all-undergraduate institutions with a reputation for producing excellent music educators, performers, and scholars. Its unique size, approximately 150–175 undergraduates, makes possible a full complement of musical opportunities and degree programs, while maintaining an intimate, nurturing educational atmosphere. From its finely-tuned and progressive curriculum to its busy performance calendar, the vibrant School of Music of today is founded on a rich history populated with top-notch faculty—dedicated educators, performers, and scholars—and legendary visiting artists.
1881

Formal music instruction offered for the first time.

In 1881, five students enrolled in piano and organ lessons offered by Minnie C. Langdon in the "Department of Musical Instruction." In the next year, the department expanded under the direction of John P.D. John, Professor of Mathematics, who also taught music theory, conducted the chorus, and later became President of the university. Other instructors in the department included: Professor of Physics John B. DeMotte, conductor of the orchestra, and professor of pipe organ and the "theory of sound"; Orra P. John, voice; Ella Earp, piano; Carrie Weik, organ; and Aldolph Schellschmidt, orchestral instruments. Students who registered for private lessons paid a fee of $10 for each 10-week term, $3 for weekly music theory classes, and $2 for biweekly chorus rehearsals.

1882

Julia Druly begins 52-year career as Professor of Piano, ending in 1934.

Adolph Schellschmidt, Professor of Orchestral Instruments, joins faculty.

1884

School of Music founded; Indiana Asbury renamed DePauw University.

Previously known as Indiana Asbury, the institution was renamed DePauw University after its great benefactor, Washington C. DePauw, who donated over $600,000 in the 1870s. W. C. DePauw and his family were particularly interested in forming a school of music on campus, which was realized in 1884 when James Hamilton Howe was appointed dean to organize and direct. The School of Music moved into Music Hall, a building originally planned to hold the Schools of Law and Theology, where it remained until 1976.

The School of Music offered instruction to three classifications of students: candidates for the bachelor of music, candidates for the degree of bachelor of literature in the College of Liberal Arts, and "persons who wish to pursue music to a greater or lesser extent." Students pursuing the bachelor of music were required to have two years of piano lessons before they were accepted into the school, and had to continue piano lessons for the first year. Thereafter, they could continue their studies in piano, or choose organ, voice, violin, or any orchestral instrument, and were to take two lessons per week with an expectation of 20 hours of weekly practice on their instrument. Other curricular requirements included basic harmony, sight-singing, elocution, and "biography" in the first year; harmony, sight-singing, and French in the second year; counterpoint, music history, and Italian in the third year; and composition, German, and a thesis in the fourth year.

James Hamilton Howe was a graduate of the College of Music of Boston University and taught at the New England Conservatory before his appointment as dean of the new School of Music of DePauw University in 1884. A talented pianist, Howe offered, during the first year of his term, two lecture-recitals on the "History of Pianoforte Technique" and "My System of Pianoforte Technique," and gave the first recital the School of Music offered. Professors of Piano Glen Sherman, Claude Cymerman, and Lorna Griffitt repeated that exact program as a part of the School of Music's centennial celebration in 1984.

During his 10-year term, Dean Howe managed to establish a curriculum, overcome strong opposition to an opera program, and encourage an active performance calendar; however, in the process, he managed to accrue a $3000 debt, mostly in unpaid faculty salaries and student deposits that the university took responsibility for. The new School of Music saw a strong enrollment during the decade of direction under the Howe administration. Though during that time only 22 students graduated and only one bachelor of music was conferred, hundreds of students benefited from musical instruction made newly available to them through the establishment of the School of Music.

Music Hall, a three-storied ivy-covered brick structure, was originally intended to house the School of Theology; however, due to enthusiastic enrollment in music classes and private lessons, the building was reassigned to the School of Music. Heated by steam and initially lighted by gas, the School of Music stayed in Music Hall for 90 years until it was razed in 1976 after the Performing Arts Center was completed, home of the School of Music until 2007. In 1927, the entire structure was moved from the northwest corner of Hanna Street to the southwest corner to make room for Lucy Rowland Hall.

1885

Alpha Chi Omega sorority founded at DePauw University.

One of Dean Howe's longest-lasting contributions was his involvement in founding the sorority Alpha Chi Omega, which Howe described in 1927 as "a glorious institution and one that has gone far beyond the hopes of its founders." With 100 members in the DePauw chapter, and 136 chapters across the nation, Alpha Chi Omega was originally designed for women students of the School of Music, who at the time were not accepted into existing fraternities on campus.

1892

Phi Mu Epsilon founded as a music honorary society. In 1905, it becomes a chapter of Mu Phi Epsilon, the national music honorary.

1894

Belle A. Mansfield appointed dean of the School of Music.

Belle A. Mansfield was named dean of the School of Art in 1893, and succeeded Howe as dean of the School of Music in 1894. Mansfield was the first woman to be admitted to the bar in the United States, and was not a professional musician, though she played the viola in the university orchestra.

Mansfield possessed extraordinary business and executive skills, and under her administration both schools overcame considerable debts and operated efficiently within a few years. Under Mansfield's direction, enrollment in the School of Music increased from 116 students in 1895 to 300 in 1906. Each year, forty to fifty recital and concert performances were scheduled. The school also featured performances from prominent visiting artists, most notably composer Edward MacDowell, violinist Maud Powell, John Philip Sousa and his band, and the Chicago and Cincinnati orchestras. One of Mansfield's enduring contributions was to offer music lessons to Greencastle children in what was to become the Preparatory Department. Mansfield resigned in 1911 after a severe illness and died later that year.