Historical Timeline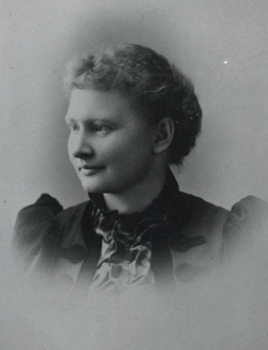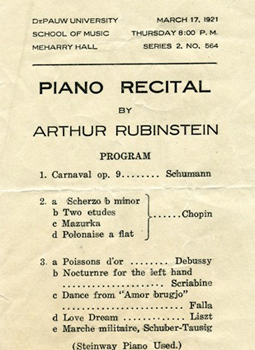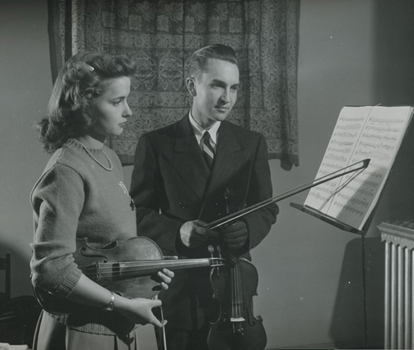 1900-1939
1906

Mildred Rutledge begins career at DePauw, running the Kindergarten program designed by Dean Mansfield, as well as teaching piano lessons, and later music education.

1911

Robert G. McCutchan becomes dean until 1937.

Under the McCutchan administration, the School of Music curriculum was reorganized and updated. Credit hours for the bachelor of music increased to 120: 48 hours in major subject, 6 in minor subject, 6 in history of music, 12 in harmony, 2 in canon and fugue, 4 in counterpoint, 4 in form and analysis, 4 in ear training and composition, and 30 in electives, 20 of which had to be classes in the CLA curriculum. The Music in Public Schools program was also reorganized, becoming a two year course with regular requirements.

Van Denman Thompson appointed.

In 1911, Van Denman Thompson began what was to be a largely influential 45-year tenure at DePauw. A graduate of the New England Conservatory of Music, Van Denman Thompson was a respected organist and composer. He was highly regarded on campus, and as student of Thompson and 1948 DePauw graduate Maureen Carkeek recalls: "We were all so in awe of him that just being around him was such a privilege. He had such a mystique around him." As university organist, Thompson was an important figure in the Wednesday chapel service held at Gobin Memorial United Methodist Church, and also played a popular Vesper service on Sundays. One of the main concert venues at DePauw, Thompson Recital Hall, was named in his honor. Thompson was appointed dean in 1937.

1913

Bowman organ, a three-manual organ in Meharry Hall, is built in memory of former president—later bishop—Bowman.

1917

World-famous pianist Leopold Godowsky performs at DePauw on January 17.

1921

Legendary pianist Arthur Rubinstein gives a recital in Meharry Hall on March 17.

1925

DePauw chapter of the American Guild of Organists (AGO) formed under the guidance of Van Denman Thompson.

1927

Music Hall moved from the northeastern to the southwest corner of Hanna Street and Locust Street to make room for the construction of Lucy Rowland Hall.

Contralto and cellist Edna T. Bowles appointed. Resigns in 1944.

1928

Virtuoso cellist Pablo Casals performs at DePauw on January 12.

1929

Henry Kolling, Professor of Piano, joins faculty. Resigns in 1966 as Professor Emeritus of Piano and Music Literature.

1932

School of Music integrated into the university.

Prior to 1932, the School of Music was practically independent of the rest of the university. The dean was responsible for hiring and paying the faculty, renting the facilities, and collecting student fees. Under the new integration, the School of Music faculty became regularly salaried faculty members and the music major and minor were created in the College of Liberal Arts (CLA).

1933

Programs leading to the degree of Master of Music established.

Programs leading to the degree of master of music were established in advanced theory and composition, advanced theory and research, and advanced problems in the teaching of music in the public schools. These programs ended during the Trusler administration in the late 1960s after an examination from the National Association of Schools of Music (NASM) suggested that the curricular offerings and library holding better suited an all-undergraduate institution.

1934

Violinist Herman C. Berg joins faculty as Professor of Violin and Viola. Retires in 1976 as Professor Emeritus of Violin and Viola.

School of Music receives accreditation from the National Association of Schools of Music (N.A.S.M.).

1935

Leah Curnutt begins career at DePauw as Professor of Piano and Music Education. Retires in 1970 as Professor Emerita of School Music Education and Piano.

1936

Honorary music society Pi Kappa Lambda established to recognize high academic and musical achievement.

1937

Robert McCutchan retires from deanship as Dean Emeritus. Van Denman Thompson becomes director (dean) until 1956.