Percussion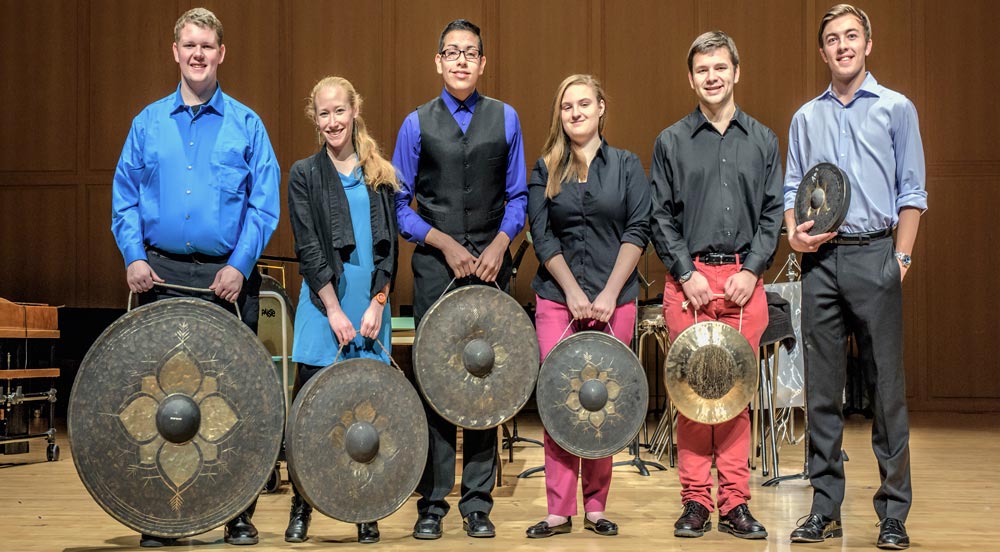 At DePauw, our goal is to develop well-rounded percussionists who can function in a wide variety of musical roles – as soloists, chamber musicians, and orchestral players – and in a wide range of musical genres – contemporary solo and ensemble music, classical repertoire, jazz and popular music, and experimental and improvisatory music. We concentrate on developing each percussionist's technique and musicianship to the highest possible level.
The percussion studio is small and select, enabling all students to receive a great deal of individual attention and a wide range of performing opportunities. All lessons, studio classes, and the percussion ensemble are taught by our percussion faculty. We regularly invite guest artists to perform and present workshops and master classes for the percussion studio.
DePauw percussionists have opportunities to perform with the orchestra, the band, the jazz ensemble, and in chamber music groups such as jazz combos and improvised chamber music. For solo performing experience, we have weekly studio classes, frequent student recitals and an annual concerto competition. Some students also participate in various regional and national competitions.

DePauw is also home to a professional ensemble-in-residence – The Percussion Plus Project – which brings outstanding guest performers to campus and provides opportunities to hear major contemporary repertoire for percussion. There are opportunities for DePauw percussion students to play with this group.
Degrees
Bachelor of Music in Performance (B.M.)


With a Second Major
With an Emphasis in Business
5-year Double Degree: B.M./B.A.

Bachelor of Musical Arts (B.M.A.) - General


With a Second Major
With an Emphasis in Business

Bachelor of Music Education (B.M.E.) - Instrumental/General Emphasis
Bachelor of Arts - Major in Music (B.A.) - College of Liberal Arts Students
Minors for Music Majors
Minor in Instrumental Jazz Studies
Minors in Music for Students of the College of Liberal Arts
Minor in Applied Music - College of Liberal Arts Students
Minor in Jazz Studies - College of Liberal Arts Students
Details about the degree options are available online by viewing the School of Music Degree Worksheets.
Faculty
Opportunities
DePauw Percussion Ensemble
The DePauw Percussion Ensemble is a chamber music group open to percussionists by audition. Music majors and liberal arts students are welcome to audition. The ensemble performs contemporary music of many styles, ranging from ragtime and jazz to "classic" works and the newest works composed by composers from all over the world. Playing in the Percussion Ensemble helps students to become effective chamber music players, and to learn contemporary playing techniques and musical styles. In addition to a major concert on campus each semester, the Percussion Ensemble also performs in the Percussion@Peeler series in the Peeler Art Gallery, plays run-out concerts at area high schools, and appears at other events.

DePauw University Orchestra
The DePauw University Orchestra, one of the first university orchestra programs in the United States, maintains an active schedule. The DePauw University Orchestra, an all-undergraduate organization, focuses on performing and reading music of the standard repertoire creating a four-year overview that is a cross-section of music including most style periods, regional influences and genres. The DePauw University Orchestra won an ASCAP Award for "Adventuresome Programming of Contemporary Music" in 1991. It was featured in May and June of 1996 on USAirways in-flight program "Ovation" performing works of Stravinsky, Mussorgsky and Grieg.

The Orchestra not only performs its own concerts (often broadcast live on WGRE-FM and the Internet), it plays for DePauw Opera productions, accompanies student Concerto Winners, and performs with the University Choirs with faculty and guest soloists. Conducting class and Orchestration class students also have benefit of time working with the DePauw University Orchestra.

DePauw Jazz Ensembles
The DePauw Jazz Ensemble performs on campus and in concert venues throughout Indiana, including combo performances in a club setting. Top artists regularly visit campus to perform with our ensembles and give master classes. All ensembles, classes, and master classes are open to all students on campus regardless of major. If you are searching for an environment in which you will learn how to play throughout all four years, and where you will graduate with a degree that opens doors, DePauw University and the Jazz Studies Program (an area of concentration leading to a minor) is for you. Recent guest artists include: Bobby Shew, Jamey Aebersold, David Baker, John Fedchock, Lynne Arriale, Steve Davis, David Berkman, Joe Wilder, Mike Longo, Jim Snidero, Bob Mintzer, and Joe Lovano.

DePauw University Band
The DePauw University Band is a select ensemble of woodwind, brass, and percussion musicians, chosen by audition. Its repertoire is selected from a wide variety of high-quality literature for symphonic band and wind ensemble. The University Band presents five to six concert performances each year. In addition, the ensemble has been recognized internationally for its renowned CD Recording Project, an artistic endeavor dedicated to recording quality wind literature and highlighting the talents of DePauw University musicians

Off-Campus Study
There are opportunities for semester study abroad or domestically in the US. Locations recently selected for study include Vienna, Milan, Paris, London, Dresden, New York, Philadelphia, and Florence.
For further information
Bonnie Whiting
School of Music
DePauw University
Greencastle, IN 46135
765-658-6638; bonniewhiting@depauw.edu