Current Percussion Students
BEN BLACKKETTER
Hometown: LaGrange, KY
Class: 2016
Major: Percussion Performance
My love for percussion goes back a long way. I have been taking private lessons since third grade. A few of my performance highlights so far have been - my four years with the Louisville Youth Orchestra & Symphony, playing Side-By-Side with the Louisville Orchestra, many Kentucky All-District Bands, Jazz, and Solo & Ensemble festivals, and being principal timpanist in the KMEA All - State Orchestra in 2012. I have also been blessed to travel to seven European counties performing with the Kentucky Ambassador Tour of Music in 2010, as well as a performance trip to New York City. It has also been rewarding for me to give back to my local percussion community by teaching private lessons. My goal at DePauw is to focus on my technique and performance skills as I make the journey towards my dream of teaching percussion at a college level as well as performing professionally.
---
ANDREW BOSOMWORTH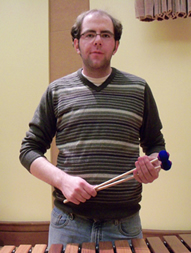 Hometown: Godfrey, Illinois
Class: 2014
Major: Percussion Performance
I have been playing percussion since I was eleven. Before coming to DePauw, I played with community ensembles such as the Alton Symphony Orchestra and Alton Municipal Band, as well as contest ensembles such as the Illinois Music Educators Association All-Sate Band. In my senior year, I performed as a soloist with my high school wind ensemble as an Arion Award recipient. In 2012, I was one of the soloists in our DePauw performance of Joseph Schwantner's new Second Concerto for Percussion, and had an opportunity to work with the composer and with the Indianapolis Symphony percussionists who premiered the piece at PASIC. I particularly enjoy playing the marimba because of the musical challenges it provides. In general, I always strive to develop my musical intuition through my practice and through my studies. My goal is to make a living doing what I love, meeting the challenges it brings, and inspiring other musicians. I am looking forward to preparing my junior recital this year.
---
JOSIAH RUSHING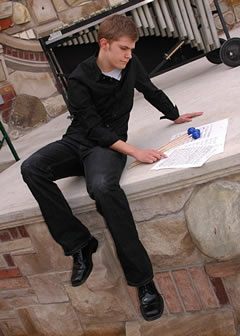 Hometown: Russiaville, Indiana
Class: 2013
Major: Percussion Performance
Since I started percussion in the 6th grade, my love and passion for it have progressively increased. In high school, I participated in various honor bands, solo and ensemble competitions, years of marching band, and many other musical experiences through my church. The experience of being in the Side-by-Side Program with the Indianapolis Symphony Orchestra was definitely one of my favorites. My first year at DePauw inspired my decision to work towards a career in performance. Experiences like studying in Brazil, performing as one of the winning soloists in the concerto competition, and participating in the Leigh Howard Stevens Marimba Seminar sparked the fire to make this choice. During my sophomore year, I was a concerto competition winner again, and I decided to enter some other competitions. I was thrilled to be one of the semi-finalists in the PAS International Solo Competition. I also participated in the Nebojša Jovan Živković Summer Seminar in Las Vegas, My junior year was incredible, with our Percussion Ensemble trip to China, winning the concerto competition for a third time, performing Joseph Schwantner's two percussion concertos for the composer during his residency at DePauw, and my junior recital. To top it off, this summer I was selected to play for Keiko Abe at her Marimba Academy in Fredonia, NY. I really love playing solo pieces and chamber music. I am looking forward to studying in Paris during the fall semester , where I will be studying with Eric Sammut. My goals are to constantly become a better musician and to work at being accepted into an excellent graduate school. I hope to instigate a greater love and appreciation for music in future audiences and students.
---
KATIE SHERMAN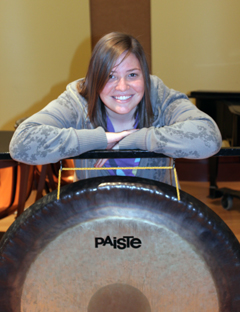 Hometown: Hawaii Kai, Hawaii
Class: 2014
Major: Bachelor of Musical Arts
I've always known that I wanted to pursue music as a career. I've been playing piano for thirteen years, and percussion for ten. I've participated in many solo and ensemble competitions and various ensembles as a percussionist - the Hawaii Youth Symphony, Hawaii Youth Symphony Percussion Ensemble, Berklee College of Music Percussion Festival, the Pacific Music Institute, and various middle and high school select bands. Playing percussion has literally brought me all around the world – I've traveled all around Europe and the United States as a member of different ensembles. My favorite percussion instrument is the drum set because I love jazz and Latin American and Brazilian rhythms. I also loved our percussion ensemble trip to China in 2012. I am excited to have been selected to participate in the New York Arts Program in spring 2013, where I hope to expand my knowledge of the music recording and production business, and hear lots of fantastic music in New York!
---
PATRICK SPERANZA
Hometown: Munster, Indiana
Class: 2013
Major: Music Education
I've been playing percussion since the fourth grade. DePauw provides an excellent environment for me to work on many different percussion instruments in a variety of performance settings. I am continuously involved in performances with the University Band and Orchestra, the Percussion Ensemble, and as a soloist. In my first year at DePauw, I was even able to write a piece for the Percussion Ensemble that has been performed several times. We had an incredible trip to Brazil during Winter Term 2009, and studied various forms of samba, and performed in China during Winter Term 2012. Outside of my percussion studies at school, I am actively developing my skills in marching percussion – I was a member of the Green Thunder percussion ensemble from 2007- 2009, and have played with the Blue Stars Drum and Bugle Corps for two years. It was a fantastic experience that has helped me grow as a performer and a future educator. In 2010, I was a member of the National Collegiate Wind Ensemble that performed at Carnegie Hall. I also participated in the Nebojsa Jovan Zivkovic Seminar in Las Vegas. In my junior year, I was selected as a member of the 50th Anniversary Marimba Orchestra that performed at PASIC. I had a chance to perform Schwantner's Velocities and his new Second Concerto for Percussion for the composer during his DePauw residency, and I was a concerto competition winner with Michael Daugherty's Raise the Roof, and played my junior recital.
---
CARLY TEBELMAN
Hometown: New Lenox, Illinois
Class: 2014
Major: Bachelor of Musical Arts
As a junior percussionist at DePauw, I can proudly say that I have come quite a long way. In high school, when my playing became a more serious interest, I was extremely passionate about percussion ensemble, and studying solo works privately. Throughout my freshman year at DePauw, I was able to expand my repertoire on every instrument, in solo and ensemble forms. More specifically, I gained a greater appreciation for avant-garde music and gained more exposure to ragtime xylophone, four-mallet marimba literature, and various drum set techniques, which I had studied little before attending DePauw. I was one of four soloists to perform Schwantner's new Second Concerto for Percussion for the composer during his DePauw residency, Through my many opportunities at DePauw I've discovered the path I want my life to take. I am currently pursuing a Bachelor of Musical Arts degree with a major in percussion and economics. In the spring semester, I'll be a participant in the New York Arts Program, and am excited about an internship there in areas such as intellectual property rights and copyright law. I hope to go to graduate school after DePauw and work in the music business industry in some way.
---
CONGSHU (WILLIAM) WANG
Hometown: Qingdao, China
Class: 2015
Major: Computer Science with a minor in music
I have been playing percussion since my freshmen year of high school. Once I was attracted by a drummer in a rock live and I decided to learn percussion. At first I just played drum-sets. Playing drums is a nice balance for my school work and leisure time. I had two drum-set solo shows for Qingdao Haiyun Music Corporation during my high school years. I enjoy the feeling of playing on the stage. At DePauw my percussion professor and colleagues help me dig my potential and find my interests. I found percussion is what I am really passionate to learn and decided to re-pick percussion. I spend more time on percussion than my major and it doesn't affect me so much because I really enjoy playing percussion so I won't be tired with it. Now I am working on different percussion instruments in order to play with band and percussion ensemble. I know it will be difficult as a CLA student but I will try my best to participate in as many events in the School of Music as I can. My goal at DePauw is performing in Kresge auditorium. It will be a nice experience for me if I can play on Kresge.