Strings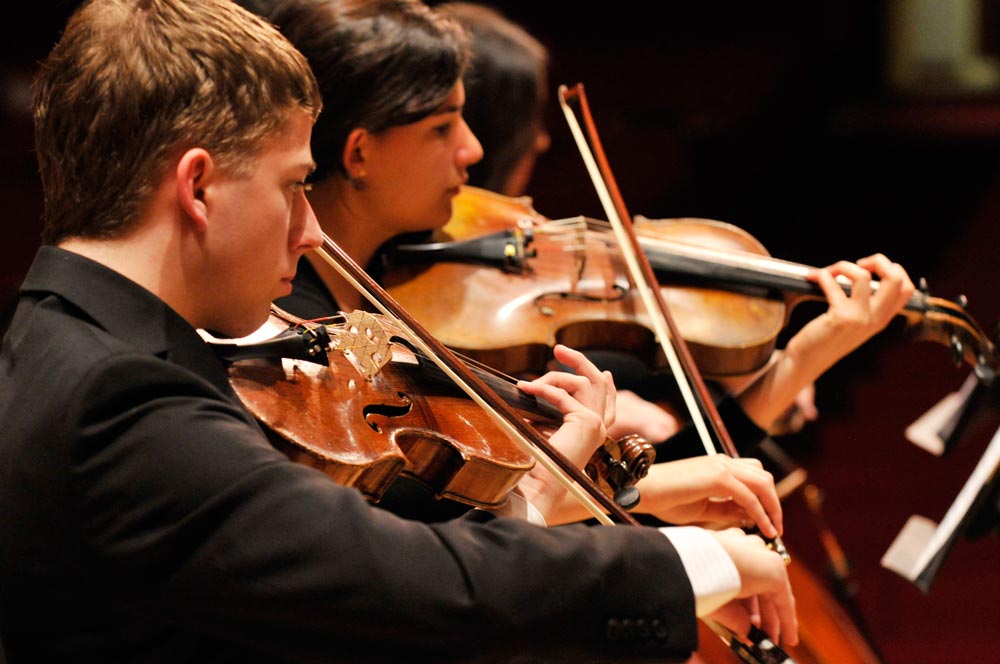 DePauw University's Strings Area is a distinguished program within the School of Music. An inherent mission of the DePauw strings faculty is to help all students obtain necessary tools for a complete education in music and to encourage disciplined study of music and research materials. The string faculty is especially recognized for aid in student development, encouragement of high standards of performance and promoting an atmosphere conducive to productive learning.
Strings professors teach and direct all applied lessons, string classes and string ensembles. They are recitalists, studio artists, clinicians, and judges for state, regional and national competitions.
Degrees
Bachelor of Music in Performance (B.M.) - Instrumental

With a Second Major
With an Emphasis in Business
5-year Double Degree: B.M./B.A.

Bachelor of Musical Arts (B.M.A.) - General


With a Second Major
With an Emphasis in Business

Bachelor of Music Education (B.M.E.) - Instrumental/General Emphasis
Bachelor of Arts - Major in Music (B.A.) - College of Liberal Arts Students
Minors for Music Majors
Minor in Instrumental Jazz Studies
Minors in Music for Students of the College of Liberal Arts
Minor in Applied Music - College of Liberal Arts Students
Minor in Jazz Studies - College of Liberal Arts Students
Details about the degree options are available online by viewing the School of Music Degree Worksheets.
Faculty
Opportunities
There are a variety of opportunities for string majors, minors, and College of Liberal Arts students. Students may elect to participate through auditions held during the beginning of each semester.

DePauw University Orchestra
The DePauw University Orchestra, one of the first university orchestra programs in the United States, maintains an active schedule. The DePauw University Orchestra, an all-undergraduate organization, focuses on performing and reading music of the standard repertoire creating a four-year overview that is a cross-section of music including most style periods, regional influences and genres. The DePauw University Orchestra won an ASCAP Award for "Adventuresome Programming of Contemporary Music" in 1991. It was featured in May and June of 1996 on USAirways in-flight program "Ovation" performing works of Stravinsky, Mussorgsky and Grieg.

The Orchestra not only performs its own concerts (often broadcast live on WGRE-FM and the Internet), it plays for DePauw Opera productions, accompanies student Concerto Winners, and performs with the University Choirs with faculty and guest soloists. Conducting class and Orchestration class students also have benefit of time working with the DePauw University Orchestra.

String Chamber Music
Offered each semester as a chamber ensemble. String students examine string repertoire or additional instruments.

Master Classes
Master teachers are brought to campus to lead instructional and performance classes working with DePauw string students. Recent clinicians include Yo-Yo Ma, Baroque violinist Stanley Ritche, bassist Ju-Fang Liu, and internationally renowned violinist Federico Agostini.

Off-Campus Study
There are opportunities for semester study abroad or domestically in the US. Locations recently selected for study include Vienna, Milan, Paris, London, Dresden, New York, Philadelphia, and Florence.
For further information
Eric Edberg, Professor
Coordinator, String Area
School of Music
DePauw University
Greencastle, IN 46135
765-658-4384; eedberg@depauw.edu