Artists-in-Residence provide great insight into the modern musical world to our undergraduate students. Working with leading 21st-century artists over a season-long residency provides DePauw musicians the opportunity to develop skills and abilities not possible in a master class setting or workshop.
---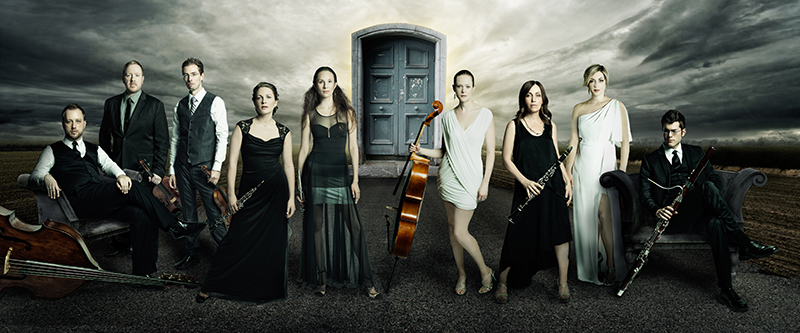 Our 2013-2014 Artists-in-Residence, Fifth House Ensemble, is one of Chicago's most imaginative and innovative chamber music groups. Their season-long residency features interactive workshops and concerts with students, faculty and Putnam County community members. Since its inception, Fifth House Ensemble has been committed to the mission of sharing the art of chamber music in a way that is personal, relevant and entertaining. Their residency will culminate in a community-based tribute to the agricultural community of Putnam County with the world-premiere of "Harvest" – a new composition that blends live music with other art forms.
About Fifth House Ensemble
Fifth House Ensemble taps the collaborative spirit of chamber music to create engaging performances and interactive educational programs, forging meaningful partnerships with unexpected venues, artists of other disciplines, educational institutions, and audiences of every type.
Fifth House Ensemble accomplishes its mission through a commitment to the following core values:
Performing at the highest artistic level through connective programming, dramatic interpretation and creative energy.

Verbally and musically communicating with audiences, allowing each performance to connect in unexpected, thought-provoking and deeply personal ways.

Upholding and revitalizing the chamber music repertoire through the performance of honored classics, undiscovered works and new music from both renowned and emerging living composers.

Developing young audiences through curriculum-integrated educational programs that encourage active listening.

Promoting musical innovation and entrepreneurship through higher-education training programs for the next generation of performers.
Fifth House Ensemble Visits
On September 14-15, members of the Fifth House Ensemble made their first visit to Greencastle, performing at the local Starbucks and Farmers' Market. The group also presented workshops on bringing music education to the elementary classroom as well as audience development.
Members of the Fifth House Ensemble returned to Greencastle on November 5-6, 2013, and March 4-5, 2014. The culmination of their final campus visit, May 9-11, will be the Mother's Day premiere of "Harvest: A Celebration of the People, Stories and Places of Putnam County" on May 11, 2014 at 3 p.m. in Kresge Auditorium.
Detailed schedule of events for March 4-5, 2014.
Visit the Fifth House website.
Purchase tickets to "Harvest."
Photo Credits: SnoStudios