Important Dates to Remember
Opening Day for New Students: August 23, 2014
Fall Term classes begin: August 27, 2014
Old Gold Weekend: October 3-4, 2014
Fall break: October 18-26, 2014
Thanksgiving Recess: November 26-30, 2014
Final Examinations: December 15-19, 2014
Winter Term begins: January 5, 2015
Spring Term begins: January 26, 2015
Music of the 21st Century: February 23-27, 2015
Concerto Competition Auditions: February 19-21, 2015
Spring Recess: March 21-29, 2015
Final Exams: May 9-14, 2015
Baccalaureate: May 16, 2015 (4 p.m.)
Commencement: May 17, 2015 (10:30 a.m.)
May Term begins: May 27, 2015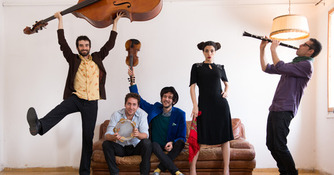 Read more about our 2014-2015 Guest Artist Series
Read More
Read more about Music of the 21st Century
Read More
@DePauwMusic on Twitter
---
Have a restful, rejuvenating fall break! When we return, get ready for the New World. #DvorakFestival #21CM
6 days ago
Our Faculty Woodwind Quintet performs tonight at 7:30 in Thompson Recital Hall. They are bound to blow us away! #Windsx5
7 days ago
Faculty Woodwind Ensemble performs the music of Barber, Heiden, Arnold and Poulenc tonight (10/16) at 7:30PM in Thompson. #DPUFacultyQuintet
7 days ago
RT @DePauwU: Our friends over at @DePauwMusic have some neat things planned this week with their Dvorak and America Festival. http://t.co/VIQeHHIGiX
9 days ago
Join us TONIGHT at 7:30 in Kresge auditorium for the jazz ensemble's first concert of the semester under the direction of Prof Steve Snyder!
9 days ago
HURRY! A pop-up concert in the Great Hall of the GCPA will start in 5 minutes! #21CM #DvorakFestival
9 days ago
Come to the Great Hall at 11:35AM to hear the band and orchestra perform some of Dvorak's music with guest speaker Joseph Horowitz!
9 days ago
Tonight at 5:30PM, join our guest Joseph Horowitz—cultural historian—and @DePauwMusic at Prindle for a talk on cultural appropriation #21CM
10 days ago
This is your last chance to watch @DePauwMusic and Theater perform Jason Robert Brown's Tony-Award winning Parade! http://t.co/MziEYYIE84
11 days ago
44 years ago
44 years ago
44 years ago
44 years ago
44 years ago
44 years ago
44 years ago
44 years ago
44 years ago