Important Dates to Remember
Opening Day for New Students: August 23, 2014
Fall Term classes begin: August 27, 2014
Old Gold Weekend: October 3-4, 2014
Fall break: October 18-26, 2014
Thanksgiving Recess: November 26-30, 2014
Final Examinations: December 15-19, 2014
Winter Term begins: January 5, 2015
Spring Term begins: January 26, 2015
Music of the 21st Century: February 23-27, 2015
Concerto Competition Auditions: February 19-21, 2015
Spring Recess: March 21-29, 2015
Final Exams: May 9-14, 2015
Baccalaureate: May 16, 2015 (4 p.m.)
Commencement: May 17, 2015 (10:30 a.m.)
May Term begins: May 27, 2015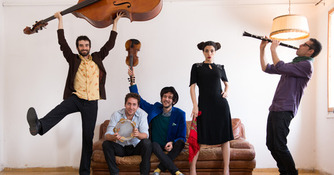 Read more about our 2014-2015 Guest Artist Series
Read More
Read more about Music of the 21st Century
Read More
@DePauwMusic on Twitter
---
Israeli cellist Yatum Baruch performs Rachmaninoff, Shostakovich & Kopytman tonight in TRH. (Fun fact: He's performed with @PerlmanOfficial)
11 days ago
RT @IntimateOpera: IOI is excited to announce our Feb. 2015 production of "Speed Dating Tonight!" Check out the website for details http://t.co/t02qIonR9U
12 days ago
Got rhythm? Join us for the percussion master class with Trio Globo in Kresge Auditorium at 1pm! #21CM
13 days ago
Grab your string instrument and your love of improvisation. Trio Globo takes us through some jazz string techniques today at 10am in Kresge!
13 days ago
Tonight! 7:30! Green Guest Artist Concert: Trio Globo with Loire! Get ready for some jazzy, groovy, worldly music. #21CM
14 days ago
Have some free time? Wanna learn some cool jazz vocal techniques from Trio Globo and Loire? Come to GCPA 1029 at 4:00 today! #21CM
15 days ago
Don't get rested yet! Trio Globo is comin to town...
15 days ago
DePops Orchestra, our student-run pops orchestra, will perform tonight in Kresge Auditorium at 7:30. Admission is free! #21CM
16 days ago
Join us in Kresge Auditorium at 3:00PM as the University Orchestra performs Dvořák's "New World Symphony." This closes off our #DvorakFest !
19 days ago
44 years ago
44 years ago
44 years ago
44 years ago
44 years ago
44 years ago
44 years ago
44 years ago
44 years ago